Billy Budd
(1962)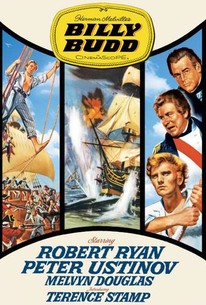 Movie Info
This allegorical tale of good verses evil comes from the classic novel by Herman Melville. Billy (Terence Stamp) is an eager 18 year old who goes to sea on a boat commanded by Captain Vere (Peter Ustinov). Billy is relentlessly harassed by the sadistic master-of arms Claggart (Robert Ryan) and his equally slimy underling Squeak (Lee Montague). When Billy kills Claggart, the Captain is torn between own compassion for Billy and the maritime law calling for Billy's death by hanging. He ponders the moral dilemma when a strong case is given for justifiable homicide. Peter Ustinov produced and directed the film. The screenplay was co-written by Ustinov and Robert Rossen.
Critic Reviews for Billy Budd
Audience Reviews for Billy Budd
½
a faithful adaptation of melville's powerful last work. i liked it slightly better than huston's moby dick, tho to be fair, no one could faithfully adapt that behemoth. terence stamp in his film debut is a real charmer and robert ryan has never been quite so flinty-eyed and evil. ustinov's direction outshines his acting
Stella Dallas
Super Reviewer
Fine acting in this sad tale.
½
In "Billy Budd," it is 1797 and the man of war Avenger, commanded by Captain Vere(Peter Ustinov, who also co-wrote the script, directed and produced), boards the merchant Rights of Man to impress sailors and comes away with only one, Billy Budd(Terence Stamp), a junior sailor. His first impression of His Majesty's Navy is not a good one as soon after his arrival he witnesses a flogging watched over Master of Arms Claggart(Robert Ryan). His fellow sailors are not kind either, as he is challenged to a fight by Jenkins(Ronald Lewis) who quickly comes to regret his rash decision. "Billy Budd" is a compelling adaptation of the allegorical Herman Melville novel which I read back in high school, so I can't accurately judge how faithful this is. The acting is good, even if Robert Ryan seems out of place but I think this is intentional, as Claggart is not an entirely unsympathetic presence, even if he is the villain and the catalyst for the action. That goes to the setting of the story during a war when the military has no choice but to take people who should never be in a war zone. For different reasons, Claggart is one, and Budd, though he makes a superb sailor, is too kind for such cruel circumstances. Whether or not there is anything else to be read into this story is up for debate, even with an oddly filmed shot.
Billy Budd Quotes
There are no approved quotes yet for this movie.