Big Business
(1988)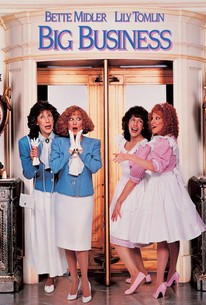 Movie Info
Thanks to a mix-up at birth, two sets of twins are separated and grow up in radically different social circles. The four baby girls grow up to be Bette Midler and Lily Tomlin-and Bette Midler and Lily Tomlin. One of the Midlers is a ruthless New York CEO, while one of the Tomlins is her air-headed "save the whales" business partner. Thousands of miles away in a Southern industrial town, a blue-collar Bette Midler and Lily Tomlin work for a company that the white-collar Midler plans to devour in a hostile takeover. The "poor" Midler and Tomlin head to New York to argue against the takeover, inevitably getting mixed up with the "rich" Midler and Tomlin. Three of the four twins team up to save the small-town company, while CEO Midler remains as nastily greedy as ever. Clear enough?
Critic Reviews for Big Business
Audience Reviews for Big Business
½
This movie is a real must-see, especially if you are a fan of either Bette Midler or Lily Tomlin. Throughout the story you're either smiling, laughing or having a good old giggle, it's an original storyline (how often do we see that!), with subtle themes of strong, wholesome values - not so much so that its offensive or boring though. If you want to smile and spend a fun evening in, then this is the movie for you - watch out for the mirror scene with Bette Midler, silly but very funny. Two great actresses with style, a sense of fun and a lot of talent, pull this movie off to make it one of my all time, favourite DVD's. Enjoy!
Cassandra Maples
Super Reviewer
½
Absolutely hilarious farce about a set of twins who are mixed up at birth. One set is raised in wealthy NYC, the other on a poor southern farm. Well-written comedy of errors is consistently quick and witty throughout its brief 97 min running time. Lily Tomlin and Bette Midler work surprisingly well together under Jim "Airplane!" Abrahams' skillful direction.
Mark Hobin
Super Reviewer
I like this movie. I know it's more chick flick than anything else but I thought it was fun. The effects used when all were on screen at the same time were really good for back then.
Jason Spencer
Super Reviewer
Big Business Quotes
There are no approved quotes yet for this movie.