The Best of Times
(1986)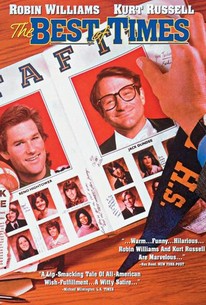 Movie Info
Small-town banker Robin Williams has never been able to live down the fact that he dropped an important pass during a crucial high-school football game. Likewise tainted for life is the team's star quarterback Kurt Russell, now a garage owner. Fed up with living his life under a cloud, Williams hits upon a brilliant idea: he will stage a rematch-13 years after the fact--with the members of the rival team. Trouble beckons when Williams' father-in-law announces that he's rooting for the opposition. Williams is determined to win, and in pursuit of that goal he pushes his former teammates to hitherto untapped brilliance. Directed by Roger Spottiswood, The Best of Times was written by Ron Shelton, future writer/director of such delightful sports films as Bull Durham, White Men Can't Jump and Tin Cup; it was Shelton, in fact, who directed most of Best of Times' climactic football game.
Critic Reviews for The Best of Times
Audience Reviews for The Best of Times
½
The Best of Times is an entertaining and fun screwball comedy that's a bit dated, but still delivers the laughs. The story follows Jack Dundee, former high school football player who lost the big game senior year, but attempts to redeem himself and lift the spirits of his small town by arranging a rematch game 13 year later. The cast is led by Robin Williams and Kurt Russell, and they work well as a comedy duo. However, the comedy is rather stereotypical and a little stale. Additionally, there are some romantic comedy subplots that aren't developed very well and end up feeling tacked on. While The Best of Times has its problems, it still manages to score some laughs.
Dann Michalski
Super Reviewer
Movies for a rainy Saturday afternoon. One of the corniest movies you'll ever see, a real one-trick pony: what if you could replay that one moment in life where it all went wrong? Terrible, hackneyed dialogue and mailed-in performances by Williams and Russell. Williams's character is completely unbelievable, and maybe too young for the role. This movie doesn't know what it wants to be. Comedy? Parody? Meaningful slice-of-life/Americana? Sports classic? It trucks in high-mindedness and obsession, but every piece of dialogue clunks with exposition and it takes way too long to get to the game. Good idea, about breaking a dying town out of its funk, but it makes for an overwrought movie that's not much fun to watch. A curious relic from that 80's urban cowboy thing, fits well with Footloose, Road House, The Complete John Mellencamp, Jeep YJs, GWG jeans, etc.
Daniel Perry
Super Reviewer
½
A mediocre film about chasing lost glory that never really finds it's way.
The Best of Times Quotes
There are no approved quotes yet for this movie.