Assault on Precinct 13
(1976)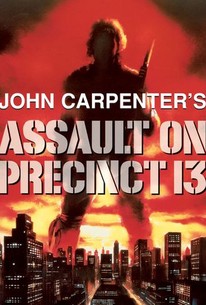 TOMATOMETER
AUDIENCE SCORE
Critic Consensus: Lean, taut and compellingly gritty, John Carpenter's loose update of Rio Bravo ranks as a cult action classic and one of the filmmaker's best.
Assault on Precinct 13 Photos
Movie Info
Cops, secretaries, and prisoners stuck in a soon-to-be-shuttered L.A. police station fight off a horde of murderous gang members in director John Carpenter's homage to Howard Hawks. When police officer Bishop (Austin Stoker) is left in charge of Precinct 13 on the last day it's open, he isn't prepared for the onslaught of a murderous street gang who have come into the possession of an enormous arsenal of guns. Finding himself trapped in the precinct with a pair of secretaries (Laurie Zimmer and Nancy Loomis), a few civilians and a handful of prisoners, Bishop is unable to call for help because the phones have already been disconnected and the precinct is in a run-down, out-of-the-way neighborhood. Holding out for a rescue, he and his fellow prisoners band together to barricade themselves in and hold the bandits at bay. But as the casualties mount and the supplies run low, they must choose between a daring escape attempt, a fiery offensive, or certain death. The sophomore feature from auteur-in-the-making John Carpenter, Assault on Precinct 13 reunited the director with Douglas H. Knapp, his cinematographer on 1974's Dark Star.
News & Interviews for Assault on Precinct 13
Critic Reviews for Assault on Precinct 13
Audience Reviews for Assault on Precinct 13
Low low budget exploitation thriller which was Carpenters first proper film after the seriously low budget sci-fi 'Dark Star'. Inspired by 'Rio Bravo' and almost any other old western really, this stand off thriller is one of Carpenter's best films for me. Again the plot is very basic but executed so well. A group of men, mainly police and convicts and a couple women are holed up in a defunct police station as a large gang of thugs lay siege outside. Your typical last stand against the bad guys. What works (like other old films) is the fact there isn't lots of fancy ass camera angles, huge explosions, tarty gun play and slow motion. Everything is created real time and with as much flare and creativity as possible, this always (well mostly) works out for the better visuals wise. I admit there are few sequences which do look rather hokey these days, when the hoodlums attack the station via the windows they don't seem to work out that's an easy way to get blown away. The final showdown involving an explosion isn't very glorious truth be told but its still acceptable. Hardly violent a tall watching today but back in the day there was a huff over one scene where a kid is shot virtually point blank. I can see why as it is a cold little sequence but these small quirks make you chuckle these days, adds spice to the film when you look out for the infamous bits. The cast really help this film it must be said. Was never really meant to do anything money wise methinks, or suppose to be classic film making but the cast really juiced up the film to cult status. Stand out players easily being Stoker as the loan cop, all that's left after the initial bloodshed. His stoic stern calm manner is the perfect leader, the perfect hero standing for what's right and true. Alongside him is Joston as the gruff tough ice cool convict who becomes Stoker's close ally. Joston's performance may be hammy by today's standards but its the perfect foil and is typical of many old classic western tough guys...'got a smoke?' For a film that plays out within the small confines of a few rooms the tension is solid, you wanna see what's gonna happen. Not much happening outside accept for the odd shot of hoods running around, action is small, fast and quick whilst visuals are enough to get the job done.
Phil Hubbs
Super Reviewer
½
Ok, first things first: I know this is a flawed filmed filled with lots of plot holes and errors (some of them nonsensical and unforgivable), but I love this movie. It has a lot of sentimental value for me, and has left a big impression on me ever since I first saw it. The story, basically a loose remake of/riffage on Rio Bravo, concerns a rookie cop and a small number of people trapped in a soon to be closed police station, and forced to fight off a massive gang of criminals out to wage war and get revenge. That's pretty much it. Despite the low budget, the film has some decent performances, a catchy score, some humor, and (probably best of all) a tremendous sense of mood, atmosphere, tension, and suspense. This is a gritty and gripping little yarn, and you really start to feel for the characters and want them to come out on top. Plus, this movie has some major balls thanks to the infamous "ice cream scene", and it still has the power to unsettle and shock due to how cold-blooded it is. A remake came out a few years ago, and, while that one had it's moments, it didn't have the same charm or low-budget indie brilliance of this one. Stick to this one.
Chris Weber
Super Reviewer
½
In his heyday, John Carpenter was the master of cinematic suspense and this story of urban violence was one of his best. A deserted police station is laid siege to by a fanatical gang out for blood when one of their number is killed by a man hysterical with grief when they casually murder his young daughter. In fact there isn't much more to the plot than that; this film is all about attitude and atmosphere. There are loads of great one liners, particularly from Darwin Joston as the laconic anti-hero who joins forces with his captors, and the characters are all very memorable. Laurie Zimmer, despite the virtually complete absence of romance in the situation has a sultry charisma that reminded me of a young Lauren Bacall and the plot has a very strong message; namely that violence begets violence. It's also very obvious that Carpenter was not the biggest fan of the LAPD when you consider that the whole incident is sparked by a combination of the fact that six gang members are callously gunned down in cold blood by faceless police officers, and the fact that the grief stricken father was only in that certain place at that time because he had little or no trust in the police. A fine example of economical and suspenseful storytelling with no unnecessarily overblown set pieces or frills that is far better than the (admittedly decent) remake.
Assault on Precinct 13 Quotes
There are no approved quotes yet for this movie.