Predators
(2010)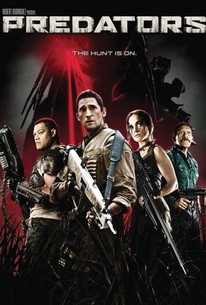 TOMATOMETER
AUDIENCE SCORE
Critic Consensus: After a string of subpar sequels, this bloody, action-packed reboot takes the Predator franchise back to its testosterone-fueled roots.
Movie Info
A group of hardened killers are hunted on an alien planet in producer Robert Rodriguez and director Nimród Antal's entry into the popular sci-fi action franchise. Mercenaries, murderers, gangsters, and convicts, they were the most feared men on Earth. But now they're a long way from home, and when the predators become the prey, fearless mercenary Royce (Adrien Brody) prepares for the fight of his life. And he's not alone, because Mexican gangster Cuchillo (Danny Trejo), Israeli Defense Forces veteran Isabelle (Alice Braga), notorious mass murderer Stans (Walton Goggins), Russian Special Forces operative Nikolai (Oleg Taktarov), RUF death squad member Mombasa (Mahershalalhashbaz Ali), and sword-wielding Yakuza Hanzo (Louis Ozawa Changchien) are all armed to the teeth, and out for blood. The odd man out is Edwin (Topher Grace), a once-prominent physician whose career came to an end following a big scandal. When the motley crew encounters Noland (Laurence Fishburne), a resourceful human who has somehow managed to survive on the alien's hunting grounds for some time, they prepare to take the ultimate stand against the most powerful Predators yet. ~ Jason Buchanan, Rovi
News & Interviews for Predators
Critic Reviews for Predators
Audience Reviews for Predators
Predators offers up a fresh concept with a solid cast, unique narrative and its conventional violence and suspense. Though some plot holes stand out, the film clings and makes for an interesting entry in the lore of this franchise. 4/5
Eugene Bernabe
Super Reviewer
½
An action-packed piece of uninspired escapism that doesn't come close to what made the original movie so suspenseful, and despite a few good scenes and twists, it is filled with pathetic dialogue, stereotypical characters and tedious moments in which nothing happens.
Carlos Magalhães
Super Reviewer
½
After the very disappointing Predator 2, I had some concern when a new predator film was announced. However, after finally watching it,I felt not fully satisfied,but found a far more deserved sequel to the orginal monster masterpiece. Firstly, looking at the positives; Adrien Brody, who plays as Royce, a mercenary and the main character. I can truly say that Brody pulled off a rather impressive performance, along with Lawrence Fishburne and Alice Braga, they give a rather promising cast of actors. The story gave an interesting twist of humans being abducted and hunted, but prehaps used too much from before. I will say that the violence in this film was not up to the high standards left by the first film,but is at a level that has some violent elements that feel very much like the predator would do, such as violently ripping out a human's spine and skull and blowing up a human with a plasma cannon. Now to look at the negatives. It is fairly predictable to know which characters die and those that survive. Secondly, I remember the first film built up its tension by having the men staring into thin air, knowing something's there. However, this happens only once and the majority is mostly guns blazing action. Going to the intense fighting scenes, I felt disappointed of haw the last two kills are both the same technique of beheading, prehaps having different ideas would've made the fighting moments more interesting to watch. Finally, I kind of knew that Topher Graces character, who is supposedly a helpful doctor turns out to be a psychopath, as the quiet one usually are the violent ones. However,he did give a clever performance. Predators may not be a great satisfaction to those awaiting a decent sequel, it tops the spin-off franchise of AVP and puts in better effort in creating accuracy,action and violence. Plus, there are some decent references to the original, such as Little Richard's "Long Tall Sally" during the credits. We can now easily forget the one that should never have been made.
Samuel Riley
Super Reviewer
Predators Quotes
There are no approved quotes yet for this movie.