Stolen
(2010)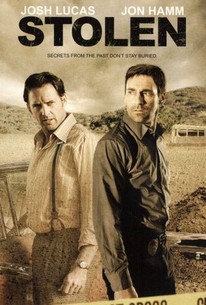 Movie Info
Mad Men star Jon Hamm headlines this unusual low-budget mystery-thriller, as Detective Tom Adkins, a man haunted relentlessly by the disappearance of his ten-year-old son, Tommy, Jr. No leads immediately turn up in that case, but he does receive an early-morning phone call that draws him to the mangled and mutilated remains of a young boy slain 50 years prior. Tom takes on the case in an attempt to find absolution, and a second tale evolves, set 50 before, involving a man named Matthew Wakefield (Josh Lucas) and his son John. The baffling similarities between the Wakefield case and Tommy Jr.'s mysterious fate push Tom to the brink of sanity and ultimately lead him on a collision course with fate. Gradually, one step at a time, Tom stumbles onto the horrifying truth about what happened to his boy. ~ Nathan Southern, Rovi
News & Interviews for Stolen
Critic Reviews for Stolen
Audience Reviews for Stolen
When you watch a lot of independent and direct-to-video films, you see a lot of garbage, but occasionally you find a gem that makes it all worthwhile, Stolen, is one of those gems. This story was so intriguing and well written that I was absolutely blown away. The film is about a detective whose son went missing, without a trace, eight years ago. The trail is cold and he's beginning to accept that he will never find him, when a local construction crew finds a boy in a box. The body has been there for at least fifty years, but the case awakens something in the detective who has to learn the truth. From there, quite ingeniously, the film is divided into three different stories, the story of the boy in the box, the detectives investigation, and the story of his own child. It was seriously like watching three different movies at once, and they were all great! The cast was pretty phenomenal too, as this was a very hard thing to pull off, but they did it seemingly with ease. Josh Lucas just blew my mind, giving an unrivaled performance as the father of the other missing boy. I've seen him in things before, but nothing was as memorable as this. Stolen is a film that consists of three stories in once, that will pull on your emotions and have you on the edge of your seat. It's one of the best films I've seen all year and I can't recommend it enough!
Todd Smith
Super Reviewer
½
It is 2008 and Detective Tom Adkins(Jon Hamm) is called to a crime scene at a building site with his wife Barbara(Rhona Mitra) to see if the body is that of their son who disappeared from a diner eight years previously. It turns out that it is not theirs since the body is fifty years old. It is 1958 and Matthew Wakefield(Josh Lucas) has two days to make a payment on his mortgage or the bank will foreclose on his house. In fact, he does not even have that much time when his wife hangs herself. And then it turns out that his sister Coral(Kali Rocha) can only take in two of his sons, leaving John(Jimmy Bennett) in his care. "Stolen" might possibly have had a chance at success if it had stayed mostly with solving the 1950's mystery in the present because all we need to know about Matthew is that he is a drifter with a son, along with Jon Hamm nailing the anguish of a grieving parent perfectly. That's not excusing the movie's predictability, rendering it pretty much routine anyway, as this is the kind of movie that is designed to get under the skin of parents by warning them never to turn their backs on their children for a second or else very bad things will happen.(Look, I hate kids, will never have any and frankly don't care.) But blinking is still okay.
Cast: Josh Lucas, Jon Hamm, Jimmy Bennett, Rhona Mitra, James Van Der Beek, Jessica Chastain, Beth Grant, Rutanya Alda, Morena Baccarin, Christian Bender Director: Anders Anderson Summary: Investigating the mystery behind the mummified, half-century-old remains of a young boy found in a box at a construction site gives a detective (Jon Hamm) key clues to his own son's disappearance eight years prior. My Thoughts: "The mystery of the story is good and really keeps you at bay to who has taken/killed these children. But once he is shown, I was definitely surprised. The story unfolds in flashbacks. I found the Wakefield story more interesting then the present one. But there were character's and some scenes that just didn't need to be in the story or just didn't make sense. Like (a previous reviewer mentioned) the gas station couple. He was way to protective over his wife for her to be out late at a bar. Just didn't make sense. I will say the stories are both sad and you feel for the fathers. But Rhona Mitra gave a wooden performance and I found it hard to believe her as a mourning mother. Besides those bit of annoyances, it was a good suspense/mystery film."
♥˩ƳИИ ƜѲѲƉƧ♥
Super Reviewer
Stolen Quotes
There are no approved quotes yet for this movie.