The Good Heart
(2010)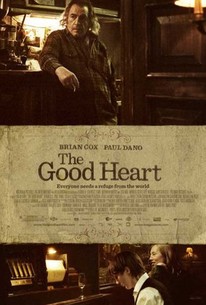 Movie Info
Jacques is the curmudgeonly owner of a gritty New York dive bar that serves as home to a motley assortment of professional drinkers. Jacques is determinedly drinking and smoking himself to death when he meets Lucas, a homeless young man who has already given up on life. In the hopes of keeping his legacy alive, Jacques deems Lucas is a fitting heir and takes him under his wing, schooling him in the male-centric laws of his alcoholic clubhouse: no new customers, no fraternizing with customers and, absolutely no women. Lucas is a quick study, but their friendship is put to the test when the distraught and beautiful April shows up at the bar seeking shelter, and Lucas insists they help her out.
News & Interviews for The Good Heart
Critic Reviews for The Good Heart
Audience Reviews for The Good Heart
If there's a reason I liked this film, it's because of Brian Cox and Paul Dano who, as always, deliver their absolute best. The problem lies in the fact that the script is unsure of itself and doesn't know what it wants to do. It has an identity crisis. And that's a problem because the story never builds to anything. It has different ideas it wants to get across but it never fully commits to one. It eventually does lead to Jacques changing his ways, but it's simply too late by that point to really make the story better. In a way you do care for the leads, as Brian Cox and Paul Dano are absolutely great together and I think the characters themselves are interesting and intriguing, especially Brian Cox who is excellent as the antagonistic Jacques. And Paul Dano is a good counter to that with his character's immense likability. That's all I can say really, the film is absolutely made by Brian Cox and Paul Dano and their excellent performances. It's such a shame the story is a step behind.
Jesse Ortega
Super Reviewer
In "The Good Heart," Jacques(Brian Cox), the owner of a dive bar, suffers his fifth heart attack brought on by listening to a self-help tape. His roommate in the hospital is Lucas(Paul Dano), a young homeless man recovering from a suicide attempt. The two bond, despite Lucas' inability to turn off the smoke detector. So much so, that after he is discharged from the hospital, Jacques looks up Lucas and not only offers him a place to stay and a job, but also names him his heir. "The Good Heart" gets off to a bad start before transitioning into an offbeat rhythm.(By the way, this is about the only time I have seen a German Shepherd that could be described as cute.) The movie nicely details life and drinking in a dive bar by filming in a faded color scheme that along with the weathered faces captures the inherent sense of desperation. By contrast, there is not much of a story on the surface and the ending is something of a foregone conclusion. And then there is the epilogue which raises some interesting questions about previous events while possibly confirming what we already suspected about Jacques.
Cast: Brian Cox, Paul Dano, Stephanie Szostak, Damian Young, Isild Le Besco, Clark Middleton, Edmund Lyndeck, Susan Blommaert, Bill Buell, Nicolas Bro, Michael J. Burg Director: Dagur Kári Summary: Jacques (Brian Cox), the rough-edged owner of a New York dive bar, realizes after his fifth heart attack that he is near the end of his life. Unable to face closing the bar, he turns to homeless Lucas (Paul Dano) to keep the place going. For Lucas, it's a steep learning curve, made even trickier by the fact that Jacques is a madman with a long list of crazy rules, including no new customers and no women. My Thoughts: "I feel like such an idiot for not seeing how the conclusion of this film would play out. I was occupied while watching it, but still it seems so very obvious now. Anyhow, the film is basically about second chances. I love Paul Dano, and I am also a fan of Brian Cox, but this wasn't their best film. Brian's character is completely foul. The things that comes out of his mouth will either offend you or make you laugh, possibly at the same time. Jacques has become a very lonely old scrooge of a man. When he meets Lucas he see's a chance to not only save his bar, but to also have a companion. It's a predictable film, if you're paying close attention. Definitely worth the rental."
♥˩ƳИИ ƜѲѲƉƧ♥
Super Reviewer
The Good Heart Quotes
There are no approved quotes yet for this movie.