The Hole
(2012)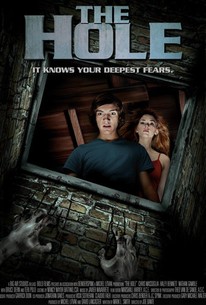 TOMATOMETER
AUDIENCE SCORE
Critic Consensus: A welcome throwback to the suburban teen thrillers of the 1980s, The Hole is a scary, enjoyable return to form for director Joe Dante.
Movie Info
From legendary director Joe Dante comes a 3D thriller that explores the fears and secrets buried deep within the human mind. Life couldn't possibly get worse, or so thought 14 year old Dane and his 10 year old brother Lucas, when their single mother Susan uproots them from New York City to the sleepy little town of Bensonville. For Dane the only exciting thing about their new town is the beautiful girl next door, Julie. With Susan spending more and more time at work, Dane and Lucas are left unattended to explore the depths of their eerie new residence. But then everything changes when they find a sinister black hole under a locked trap door in the basement. Hoping for some answers about the house's past, Dane and Lucas bring Julie in on their new discovery. When the hole is exposed, evil is unleashed. With strange shadows lurking around every corner and past nightmares coming to life, the trio will have to come face to face with their darkest fears to put an end to The Hole. -- (C) Official Site
News & Interviews for The Hole
Critic Reviews for The Hole
Audience Reviews for The Hole
Julie: I know what you've got. You've got a gateway to hell under your house. And that is really cool.  "It Knows Your Deepest Fears." The Hole has the childhood nostalgia feel to it, while still being creepy enough to warrant a look from people above the age of 12. I don't believe it's going to scare anybody, but it is a whole lot of fun. The movie has its problems, sure. Like, if locks keep the "darkness" or whatever from coming up then why not just go buy some locks and put them on. But oh well, plot holes and all, the movie still works because of Joe Dante. Dante has made quite a few movies that have this type of feel to them; from Gremlins to Matinee to Small Soldiers. This isn't the best of them, but a nice little addition to his filmography. Dane, Lucas, and their mother move to a new town from Brooklyn. Through early dialogue, we learn that they have moved a lot, and Dane is starting to get sick of it. When Dane and Lucas go into the basement one day, they find a trap door with locks all over it. Instinctively they cut them off and see that it's a hole that seemingly goes on forever. The neighbor girl, Julie, walks in and sees it too. Soon after weird stuff starts happening to the three of them and they begin to realize that the hole projects their greatest fears.  The plot is nothing special and the movie isn't all that original, but there's a certain amount of fun that goes along with everything. The cast isn't too shabby, but they could have projected a little more fear from their performances. I mean the whole point of the movie is that their greatest fears come to life. If you look at them for most of the runtime though, it looks as if their 43rd greatest fear is coming to life.  Anyway this little known and long shoveled movie merits a look. Especially if you are a fan of Joe Dante's. It isn't going to wow you on any scale really, but it's great diversion and something you could probably watch with the family without worrying too much. This would actually be a nice little way to introduce younger audiences to the horror genre before taking them into scarier endeavors.
Melvin White
Super Reviewer
I was fortunate enough to catch the US world premiere of The Hole last night at The Castro Theater in San Francisco. After winning some accolades at TIFF 2009, the film failed to get a distribution deal and has basically been sitting on the shelf ever since -- which is a shame. The Hole represents a return to form for Joe Dante, who is the personification of a great genre director. Like so many, he broke into the business working under Roger Corman and his career trajectory has been very reminiscent: no classics, but a string of entertaining, creative and (if you know where to look) compelling films. The Hole would have probably been awful if Dante weren't directing. He takes a pedestrian horror plot and gets so much out of it, thanks to his smart compositions, creative production design, and his ability to weave horror and comedy together seamlessly. Always ahead of the curve, Dante decided to shoot the film in 3D well before its resurgence, and he utilizes it very effectively -- concentrating on providing depth and texture to the environments and enriching the camera blocking he's famous for. The film definitely sputters towards the end, but The Hole is worth watching (if you're able to find it). It serves as a great example/reminder as to why Joe Dante is a genre legend.
Jonathan Hutchings
Super Reviewer
Strong start, weak finish.
Ken Stachnik
Super Reviewer
The Hole Quotes
There are no approved quotes yet for this movie.