Tron Legacy
(2010)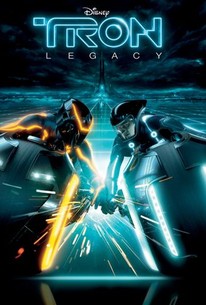 TOMATOMETER
AUDIENCE SCORE
Critic Consensus: Tron Legacy boasts dazzling visuals, but its human characters and story get lost amidst its state-of-the-art production design.
Movie Info
The Master Control Program is booted back up in this revamped Tron continuation that sees the return of original star Jeff Bridges as Kevin Flynn, the brilliant computer programmer whose disappearance leads his son, Sam (Garrett Hedlund), to search for him in and out of the computer world. Original director and co-writer Steven Lisberger produces the new film, which is helmed by commercial director Joseph Kosinski. James Frain, Olivia Wilde, Beau Garrett, and Michael Sheen also star, with Bruce Boxleitner returning as Alan Bradley and Tron, the heroic protagonist of the original film.
News & Interviews for Tron Legacy
Critic Reviews for Tron Legacy
Audience Reviews for Tron Legacy
½
While the original Tron was a tiresome mess, this sequel is in fact a huge evolution in about every aspect, featuring a better narrative, more entertainment and, of course, superior technology and visuals. The result is dazzling fun with an awesome soundtrack by Daft Punk.
Carlos Magalhães
Super Reviewer
Tron Legacy takes place about 15 years after the events of the first Tron film where Kevin Flynn (Jeff Bridges) has gone missing and his son Sam (Garrett Hedlund) has grown up questioning where his father went. He gets a text from the video arcade where his father worked and goes there only to be sucked into the digital world of Tron, where C.L.U., a creation in Flynns own image (Also played by Bridges,) Has taken over and Flynn has been forced into hiding in the outskirts of the city that he had created along with C.L.U. With the help of Sam and a girl named Quorra, they try to escape from the digital prison before the gateway closes. Tron Legacy is definitely a sequel that really steps up the game in terms of the style it shows. It is modeled after the style of the original film but like this new film, the world has evolved drastically since those times and everything is now much more high tech and creative in design. With CG the effects are very much improved from the first film and really are one of the shining points of this film and they look incredible. Now the Light Cycle battles look incredible and now there's not just light cycles, but light ships, light planes, and even light gliders, and each looks incredibly well stylized in this world and the CG really does help make this world and machinery look incredible. Now Tron Legacy doesn't have the best acting in the world and Hedlund and Quorra can get kind of annoying at some points due to how cheesy their dialogue is, but the main selling point in terms of the acting in this movie, is two people, Jeff Bridges and Michael Sheen. Bridges does a great job at being both calm and collected as Flynn and being a ruthless and horrible prick as C.L.U. and Sheen, though having little screen time, takes major advantage of this screen time and makes it so you never can take your eyes off of him just due to how bizarre and strange he acts and is the big show stealer in the whole club scene. The main thing that steals the show in this whole movie aside from the effects and scenery, is the incredible music, all done incredibly by Daft Punk. This techno sound that they traditionally are known for truly signifies the hi-tech feel and look of this world, and I personally think this is one of the best soundtracks I've ever heard in a film. Overall, this is an incredible sequel and a major improvement over the first film in the technical standpoint, and musical standpoint, and this is hands down one of my favorite films of all time. True it does have some falts like some of the dialogue in the film is incredibly cheesy, but the good dialogue from Jeff Bridges and Sheen does make up for the cheesy. I'd say check it out if you want an incredibly entertaining sequel to make up for the stupidness of some other action sequels done in the past.
Michael Edwards
Super Reviewer
½
A sad attempt to capture some of the magic of a dated film. The special effects were pretty good though.
Christian C
Super Reviewer
Tron Legacy Quotes
There are no approved quotes yet for this movie.