Ong Bak 2
(2009)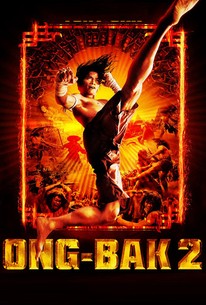 TOMATOMETER
AUDIENCE SCORE
Critic Consensus: It suffers from comparisons to its predecessor -- not to mention Tony Jaa's less-than-nimble direction -- but Ong Bak 2 has all the extravagant violence and playful style that fans of the original will expect.
Movie Info
Muay Thai martial arts master Tony Jaa returns to deliver a bone-breaking barrage of knees and elbows in this action opus that finds the star not only delivering blows in front of the camera, but calling the shots behind it as well. Despite the title's indication of this film as a sequel to 2003's Ong-Bak: The Thai Warrior, this movie has no narrative connection to the events of the earlier work, despite the fact that both films star Jaa.
News & Interviews for Ong Bak 2
Critic Reviews for Ong Bak 2
Audience Reviews for Ong Bak 2
Though better made than the first movie (even avoiding those annoying playbacks), what is obvious is its purely commercial interest, from the title (this is not a sequel or a prequel) to the use of flashbacks so that the movie can jump straight to the action - and the ending is terrible.
Carlos Magalhães
Super Reviewer
What can I say about this sequel, its actually very good surprisingly, nice idea and well made. Lets just get this straight, this sequel has nothing to do with the original film a tall but its just as good if not a little better than the original film. This film is set in feudal Siam with a young boy (Jaa) being raised by a group of elite warrior bandits after his parents have been killed and he was captured by slave traders. So again the plot is very basic and revolves around revenge as usual, the film also tends to show Jaa doing his thing all over again accept this time set in ancient times and this time it looks even better. The various forms of martial arts on display whilst a young Jaa trains and throughout the film is superb, a real MMA film straight out of the wild East. The action sequences are a joy to watch with flashes of colour, blood, fantasy and legend fused with various forms of combat, this film really does put some major Hollywood action films to shame. Everyone and everything looks highly realistic from sets, hair styles and costumes to weapons and the beautiful locations in native Thailand. Really strong start to the film with a good intro of the warrior assassins but admittedly the film does lose its powerful grip near the end with its rather odd ending due to problems on set during the making. A glorious mystical feel runs through this film combining genuine history with a lovely dash of artistic license :)
Phil Hubbs
Super Reviewer
A brilliant and spectacular martial arts epic that totally blows you away. Tony Jaa tears up the screen once again in the leading role and behind the camera crafting a bold, ferocious and earth-shattering adventure. It's packed with some the most amazing and depth-defying action sequences ever put on film and has one of the greatest final martial arts sequences ever put on film. An incredible and near perfect film. A dazzling and pule-pounding action-packed extravaganza that roars across the screen.
Ong Bak 2 Quotes
There are no approved quotes yet for this movie.