Mammoth (Mammut)
(2009)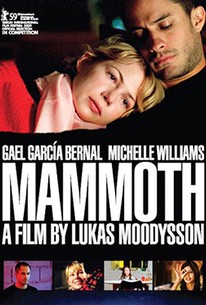 Movie Info
Three years after his "experimental" phase wrapped with the jarring, iconoclastic Container, Swedish enfant terrible Lukas Moodysson returned for this sprawling, ambitious social drama. Echoing Alejandro González Iñárritu's Babel and featuring two Hollywood A-listers as his leads, Mammoth also marked the director's premier English-language project. Michelle Williams and Gael García Bernal co-star as Ellen and Leo, New York marrieds; she's an emergency-room surgeon, he's a listless, vaguely dissatisfied Internet game designer. They have a family, albeit an unconventional and dysfunctional one: seven-year-old daughter Jackie (Sophie Nyweide) is practically being raised by a 24/7 Filipino caregiver, Gloria (Marife Necesito), who dotes on her incessantly. This provokes the envy of Ellen and the resentment of Gloria's two geographically estranged sons, Manuel (Martin Delos Santos) and Salvador (Jan Nicdao), who repeatedly phone their mom from Manila and plead with her to come home. Gloria's mother grows so distressed by this behavior that she attempts to show Salvador just how easy his life is in comparison to that of others, which leads to unanticipated tragic consequences. Meanwhile, Leo teams up with a shifty associate, Bob (Tom McCarthy), flies to Thailand, and encounters a freewheeling, laid-back working mother named Cookie (Run Srinikornchot). Step by step, the actions that Leo takes while abroad create a domino effect and alter everyone's lives in irreversible ways.
News & Interviews for Mammoth (Mammut)
Critic Reviews for Mammoth (Mammut)
Audience Reviews for Mammoth (Mammut)
½
Good movie. Have been seeing this going cheap on Blu ray for a while now. Was tempted to buy it, but glad I watched it on tv instead, as I don't know that it is a movie I would want to watch again. (though I did like it). It's pretty much a movie about unhappy people. I could see what they were aiming for with the parallels. Ie, Michelle Williams plays a working mum who doesn't have enough time to spend with her family. Meanwhile the Filipino nanny is working for her, practically raising her daughter, while she misses her own little boys at home in the philippines. I found both these women sympathetic. Less so the husband. The story about what happens to the young son of the nanny is horrific. I think the stories were a comment on life today and priorities, but I couldn't get the point about the husband. So he cheats with a young girl and gets away with it. Were we meant to pity him in some way? I certainly didn't! Overall a good movie which maybe I didn't quite get, but good acting and great soundtrack.
Nicki Marie
Super Reviewer
½
Fragmented, but coherent, Mammoth comparatively narrates domestic drama in different social-cultural settings. Heaving with stereotypes, Mammoth concluded in accomplishment of imparting a definite set of emotions with the audiences.
Jan Marc Macababayao
Super Reviewer
'Where do all the children play?' Disregard the film synopsis. These interwined stories, from varying cultural standpoints, confront and question post-modern values. The pursuit of money to better our lives and childrens' exacts a high price. Each character determines if the cost is worth it. This film's direction, symbolism and 'message' is far from subtle.
Stefanie C
Super Reviewer
Mammoth (Mammut) Quotes
There are no approved quotes yet for this movie.