Rage
(2009)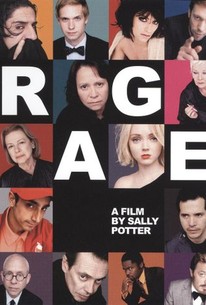 Movie Info
Director Sally Potter examines the effects of globalism in the information age in this drama following a young blogger named Michelangelo as he interviews a series of eccentric subjects over the course of seven days. In a prominent New York fashion house, flamboyant designer Merlin prepares to debut his latest collection as curious blogger Michelangelo shoots interviews on his cell phone. His subjects; a disparate mix of New York denizens including a celebrity supermodel named Minx, a financial backer named Tiny Diamonds, a seamstress named Anita de Los Angeles, a pizza delivery boy named Vijay, a war photographer named Frank, and a critic named Mona Carvell. The fashion industry is in crisis thanks to globalization and a faltering economy. As the ever-increasing gap between appearance and reality widens, Michelangelo becomes the person everyone turns to in order to vent their frustrations. Later, when a model dies on the runway and police launch a murder investigation, the interviews take the form of confessionals in the eyes of a child armed with the two most powerful tools of his generation: the Internet and a cell phone.
Audience Reviews for Rage
½
Written and directed by Sally Potter, "Rage" is something of a failed experiment. Taking place over the seven days of Fashion Week, a vlogger, Michelangelo, interviews the participants from the top to the bottom of the industry, and all in between. There is little of interest until he stumbles across a story, amongst the protests by garment workers for higher wages that are barely covered by the press, when shots are fired. Even through this, most of the characters are only interested in themselves, so their storylines never come together to form a coherent whole. Still, there is an excellent cast including Judi Dench, Steve Buscemi, Dianne Wiest, John Leguizamo, Eddie Izzard amd David Oyelowo who are all fun to watch. Of particular notice is Jude Law, almost unrecognizable as a model, and not a male one either. And the movie almost has something worthwhile to say about fame on the internet that Michelangelo achieves of sorts, even though he is not using his real name by focusing on the fame of others.
Rage Quotes
There are no approved quotes yet for this movie.