Hansel & Gretel
(2007)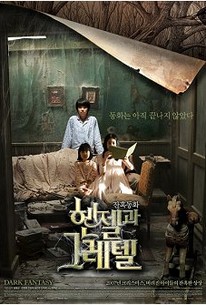 Critic Reviews for Hansel & Gretel
Audience Reviews for Hansel & Gretel
If you think for a second, Hansel & Gretel the Original"fairy" tale is not really friendly tale. It is creepy. A creepy version of Hansel & Gretel I thought there cannt be creepier than the tale itself. Just like I thought. Pretty well made
½
A creative piece and a sisister tale, that seems all the more creepy because of it?s fairy tale connection. Having said that it?s not scary or particularly graphic in terms of gore, but the childrens performances manage to pull off an intriguing story and one that?s worth seeing.
Lady D'arbanville
Super Reviewer
Hansel & Gretel may be an early film on Pil-Sung Yim's directing resume, but this Korean fantasy thriller shows he is no rookie at at this.
First things first. This is not a retelling of a fairy tale. This is a Korean thriller with concepts of the Hansel and Gretel story throw in. Hence, this is not a movie to take the kids to see.
This film doesn't waste time at getting into the fantasy atmosphere. Just after 5 minutes, with the opening credits already in the past, the main character is in the deep forest where 99% of this picture takes place. From here on out, with the run time at just under 2 hours, the bulk of this film is spent slowly unraveling the mystery.
Sure, the film is a bit long. However, at the same time there are positives that are beneficial to this movie. For one, the cinematography is worthy of note. The set designs, with the dark atmosphere and moderate amount of bright colors, are also visually pleasing.
Jeong-myeong Cheon is good as the lead, however it is the 3 children that steal the show: Shim Eun-kyung, Ji-hui Jin, and Eun Won-jae.
As this review comes to a close, Hansel & Gretel is a Korean thriller worth checking out for fans of the genre.
Hansel & Gretel Quotes
There are no approved quotes yet for this movie.