Restraint
(2007)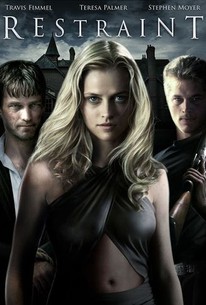 AUDIENCE SCORE
Critic Consensus: No consensus yet.
Movie Info
A pair of desperate fugitives takes a hostage whose dark past gives him a distinct advantage over his captors in this twisting thriller starring former television Tarzan Travis Fimmel. Dale and Ron foolishly thought that by taking a hostage they could increase their chances of survival, but when would-be pawn Andrew takes an unexpected liking to the criminal couple, it doesn't take long for them to realize that they may have just made a fatal mistake.
Critic Reviews for Restraint
All Critics (2) | Fresh (2) | Rotten (0)
An edgy, ambitious nail-biter that keeps you poised to slip off the couch the whole way through.
Dave Warner's taut and terrific screenplay gives director David Denneen plenty to work with in this classy, beautifully photographed thriller.
Audience Reviews for Restraint
½
Like many I expected just a cheap little thriller. Instead I got a very in depth character study. Each of the three protagonists are fleshed out and sometimes in subtle ways. Two lovers on the run take a man hostage in his home. The man is agoraphobic and his fiance is mysteriously absent. As the two lovers hide out, tension begins to grow as the girl feels for the hostage. It soon becomes clear that she has been dragged along in this road trip of destruction as a way to escape her life as a stripper. It doesn't help that her boyfriend has some serious psychological and rage issues. He begins getting paranoid and this paranoia drives away his girl. Soon she is needed to dress up as the hostage's fiance in order to claim his trust fund. This shows her a glimpse of the life she dreams of. I loved the way the characters gradually switched roles, each one at some point is a victim. The tension mounts and the film becomes somewhat chilling. The real horror lies with not only the characters' actions, but their mental states and how they manipulate others, whether through anger, pity, or lust. A terrific movie that grabbed me and exceeded my expectations at every turn.
Luke Baldock
Super Reviewer
Definitely did not take the turn I thought it would. I thought this was a really good movie, kept you guessing, and was entertaining. Definitely an easy watch. I personally didn't think the ending was confusing at all. I thought that it took a fantastic, and unexpected turn. A twisted little film.
Cynthia S.
Super Reviewer
½
Despite the fact that I really only watched this because Teresa Palmer was in it (gorgeous) it was a surprisingly effective thriller thanks to good performances and a tense screenplay. Nothing is ever clear cut and plenty of times I was left questioning the motives of the characters. That makes for an entertaining 90 minutes of suspense and mayhem. It's a movie most people probably have not heard of, but if you get the chance check it out.
Josh Lewis
Super Reviewer
Restraint Quotes
There are no approved quotes yet for this movie.