Fuel
(2008)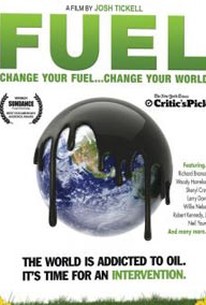 Movie Info
In this feature-length documentary, filmmaker and biofuel advocate Josh Tickell explores the origins of America's dependence on fossil fuels, eventually detailing the cross-country road trip that he took in his biodiesel-converted van, campaigning for the more sustainable, environmentally friendly fuel. Tickell interviews people in his film from all over the spectrum of fuel use, from oil company executives to those devastated by water contamination stemming from oil companies to Midwestern families considering buying Hummers. Hoping to paint as complete a picture as possible of American fuel use, Tickell explores how we fuel our lifestyle in the present and how we can hope to in the future.
Audience Reviews for Fuel
This thesis-driven documentary makes the case for biofuels as a viable replacement for oil. On another site, I make the case that conflating our involvement with the Middle East with oil only is a myopic point of view (link at the end of the review), and this is just one of the arguments presented in Fuel that bothered me. Additionally, almost every other argument was a pathos argument that deployed the same overblown sentiment: "What about the children? We're borrowing the environment from our children." In the words of George Carlin, "Fuck the children." Even if you're not angered by the obsession with children that this film deploys, you'd have to admit that the argument loses its effectiveness after it's repeated almost every five minutes. I also wonder if people fifty years from now will look at the scene in which two people drink bio-oil the same way we look at footage of people fifty year ago drinking DDT. Overall, there is some good information in this film, but the arguments get repetitive and tired. http://dissidentvoice.org/2009/10/bumper-sticker-wisdom/ http://dissidentvoice.org/2009/10/bumper-sticker-wisdom/
Jim Hunter
Super Reviewer
Fuel Quotes
There are no approved quotes yet for this movie.