Fireproof
(2008)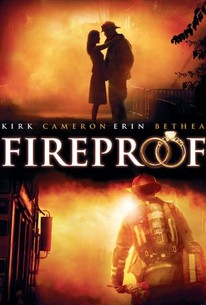 Movie Info
A heroic fireman locked in a failing marriage accepts his father's challenge to take part in a 40-day experiment designed to teach both husband and wife the true meaning of commitment in this faith-based marriage drama starring Kirk Cameron and Erin Bethea. When he's battling blazes, Capt. Caleb Holt (Cameron) adheres to the old firefighter's adage about never leaving your partner behind; back at home, it's an altogether different story. Caleb and his wife Catherine (Bethea) have been married for seven years, but lately arguments over career, housework, finances, and outside interests have driven the once-happy couple hopelessly apart. Just as Caleb and Catherine prepare to officially dissolve their marriage, Caleb's father John (Harris Malcolm) presents his son with a most unusual challenge: commit to a 40-day experiment called "The Love Dare," and take one last shot at saving his marriage. While at first Caleb agrees to take a chance on "The Love Dare," the discovery that it's closely tied in with his parent's newfound faith causes him to momentarily reconsider. Still, Caleb carries on with the experiment despite being constantly rejected by his skeptical, embittered wife. When Caleb asks his father how he can be expected to love someone who refuses to give him a fair chance, John tells his son that this is precisely the same love that God shows for humankind. Now, with a little help from above, the man who makes headlines for saving lives will fight to be a hero to the one person who matters most -- his wife. ~ Jason Buchanan, Rovi
Critic Reviews for Fireproof
Audience Reviews for Fireproof
½
I obviously don't belong to the target audience of this moralizing, pro-marriage piece of Christian propaganda, but nothing can excuse it for being so awfully schmaltzy, predictable, sexist and poorly made, preaching to the converted and making everyone else cringe in pain.
Carlos Magalhães
Super Reviewer
I have no words for how bad this film is. The clumsy script is an insult to the message...and the acting is worse than sinful. Dimensionless, flat acting by an incompetent Kirk Cameron is notable. Does God really want people in marriages to be so emotionally deficient they blindly grasp at the ridiculous? I doubt even Jesus would forgive the film makers.
Christian C
Super Reviewer
I don't consider myself a religious person at all, and sometimes question if I really believe in God or Christianity. Therefor, in some ways I'm not really a target person for this, but in other ways it's a movie meant to register with someone like me with it's Christian messages. "Fireproof" is the story of Caleb(Kirk Cameron) and his wife Catherine(Erin Berthea) as their marriages begins to fall apart. She wants a divorce, he is unsure and then takes a 40 day "love dare" given to him by his father. The dare will hopefully lead them back together and help them build a relationship with God. The movie has a very meaningful message, and honestly never becomes too "pushy" about God. It's a movie designed for people to think about their own relationships and faith, and it really does accomplish that. However, the story is kind of cardboard, and the acting is downright horrible. Makes me wonder with all the actors who talk about God and thanking Jesus, why don't they make movies like that this, so they would be better and reach more people? Cameron is ok, but he's not a movie actor at all, he is perfect for sitcoms like "Growing Pains". Married people should give it a watch, just expect a good message, with poor execution.
Everett Johnson
Super Reviewer
Fireproof Quotes
There are no approved quotes yet for this movie.