The Stone Angel
(2007)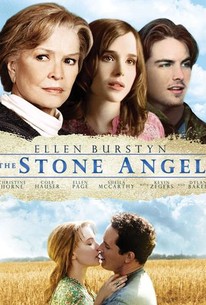 TOMATOMETER
AUDIENCE SCORE
Critic Consensus: Despite fine performances from Ellen Burstyn and newcomer Christine Horne, The Stone Angel fails to escape formulaic melodrama territory.
Movie Info
Director Kari Skogland takes the reins for a Buffalo Gals Pictures production starring Academy Award winner Ellen Burstyn as author Margaret Laurence's much-lauded heroine Hagar Shipley. Hagar may by 90, but she not ready to lie down and die just yet. Her decisions stem straight from her heart, and that often alienates her family and friends. When Hagar's son, Marvin (Dylan Baker), takes his mother to look at a nursing home, she takes it as her cue to leave her family behind and set out on one great last journey. Her mission is to locate the seaside home she remembers from her youth, but Hagar's memory is quickly fading, making it difficult for her to distinguish the past from the present. As a young girl, Hagar was set to inherit her father's mercantile empire until she was disowned for marrying a bold young man named Bram Shipley (Cole Hauser). Later, when Hagar's romantic illusions fade and she begins to view her husband with contempt, her decision to deny her children the kind of parental approval that she so badly longed for from her own father provokes a deep hereditary flaw. As she makes her way toward the seashore, Hagar realizes her time is running far too short to make up for a lifetime of unacknowledged mistakes.
Critic Reviews for The Stone Angel
Audience Reviews for The Stone Angel
CAST: Ellen Burstyn, Christine Horne, Cole Hauser, Dylan Baker, Ellen Page, Kevin Zegers DIRECTED BY: Kari Skogland SUMMARY: Rather than succumbing to life in a nursing home, feisty Hagar Shipley (Ellen Burstyn) goes on the run. As she struggles to keep her mind clear, Hagar relives passionate moments from early in her life and reflects on the many difficult experiences she's faced. MY THOUGHTS: " This movie was sad, touching, and brillantly acted by all the characters. It's a storytelling movie and it really puts you in that place at that moment. The story goes back and forth from the present to the past. At the cottage house, she reminisces in flashbacks about all the relationships, loves, and experiences she's had in her long life. This movie is mainly about life and its about the ups-and-downs that we face, but overall, we conquer. Just a great film. Ellen Burstyn and Christine Home are the stars in this movie and out shine everyone else. But I believe their meant too. I guess the only disappointment in watching this movie is how small the roles Ellen Page and Kevin Zegers have in the film. But when they were on screen they were great. It's a good movie that might even draw a few tears from you. Its well worth the watch."
♥˩ƳИИ ƜѲѲƉƧ♥
Super Reviewer
½
In "The Stone Angel," Hagar(Ellen Burstyn) is being pressured by her son Marvin(Dylan Baker) and daughter-in-law Doris(Sheila McCarthy) to move into a nursing home, to which she is fiercely resisting. At the same time, she senses the futility of her fight as she feels her body and mind beginning to betray her. So, Hagar sneaks out of the house and travels back to her old hometown before it is too late. As a young woman(Christine Horne), Hagar wants to be a teacher but her wealthy father(Peter MacNeill) keeps her in town in a creepy arrangement to do the accounting and controls who she can see. That only works when he is at home and Hagar attends a dance while he is on the road, meeting the roguish Bram(Cole Hauser). Despite a nice example of stunt casting and an excellent performance from Ellen Burstyn, "The Stone Angel" has more than a hint of "A Trip to Bountiful" but with a sluggish pace, going on far too long with a cliched revelation in a vain attempt to neatly fit together all of the pieces of Hagar's past. Even then, one fairly big question remains. And it is hard to reconcile the repressed middle-aged Hagar with the profane old Hagar. The movie should have been more focused on Hagar's present and issues surrounding senior citizens while giving a more fractured view of her past which would better simulate the fading state of her mind. In recalling the past, Hagar has a way of staying on the negative side of the equation. The lack of nostalgia is refreshing, separating romance from relationships. Since marriage is hard, it is best to be very, very sure of what you are doing.
½
REALLY good acting and decent script. I lasted until the end out of curiousity but the story was kind of thrown together and I didn't really understand the purpose. WARNING SPOILER: I guess the message was that despite her troubled past and everyone in her life that died, Hagar found peace with God on her death bed. I wish it explained more WHY she found peace...
Dannielle Albert
Super Reviewer
The Stone Angel Quotes
There are no approved quotes yet for this movie.