Cactus
(2008)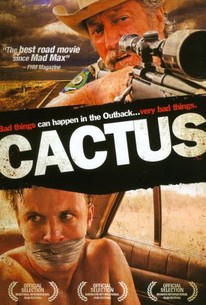 Movie Info
Two men on the wrong side of the law are brought together under perilous circumstances in this thriller from Australia, the first feature film for director Jasmine Yuen-Carrucan. Eli Jones (David Lyons) is a gambler whose luck has already taken a turn for the worse when he's attacked one night and wakes up the next morning bound and gagged in the back of a car. Behind the wheel is John Kelly (Travis McMahon), a man he's never met. Eli has no idea where he's going or why he's been abducted until John takes pity on him and removes the gag. As the two men talk, we learn that Eli is deep in debt to powerful men who have hired John to kidnap him. John isn't a criminal by nature, but a series of family crises have forced him to raise some quick cash, and he's agreed to bring Eli to a rendezvous in the outback in exchange for a big payday. While Eli has worked out what he's convinced is a foolproof plan, fate brings others into the picture and his scheme begins to unravel, with dangerous consequences. Actor Bryan Brown served as executive producer on Cactus as well as playing a key supporting role.
Critic Reviews for Cactus
Audience Reviews for Cactus
A lot of people talking about Australian cinematography are spending more time reading critics instead of watching movies! If I read the critics I would skip watching this film.... and I am glad I didn't. Interesting road movie by first time writer-director Jasmine Yuen-Carrucan. She was very good camera operator until this attempt as a director and now is showing us that is very capable woman doing both of those things very well. I like that this art work is not too commercial and I could describe it as esoteric. This film is NOT a masterpiece, but everything is done professionally without too much effort. I won't try to describe the plot, let me say that the journey of the two passengers is much more interesting than the destination.
Cactus Quotes
There are no approved quotes yet for this movie.