Igor
(2008)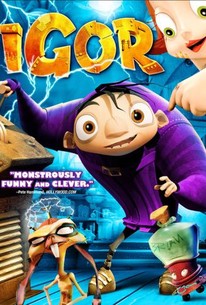 TOMATOMETER
AUDIENCE SCORE
Critic Consensus: With an animation style that apes Tim Burton, and a slew of cultural references that aren't clear enough to reach the crowds, Igor's patched together antics make it hard to see who the film is trying to please.
Movie Info
In a land of mad scientists and diabolical inventions, what do you do when youre born with a hunch on your back? You become an Igor. A twist on the classic monster movie, that tells the story of one Igor--who's sick of being a lowly lab assistant with a "Yes Master's" degree--and dreams of becoming a scientist. When his cruel master kicks the bucket a week before the annual Evil Science Fair, Igor finally gets his chance. With the help of two of his experimental creations--Brain, a brain in a jar who's a little light on brains, and Scamper, a cynical bunny brought back from being road kill, Igor embarks on building the most evil invention of all time, a huge, ferocious monster. Unfortunately, instead of turning out evil, the monster turns out as Eva, a giant aspiring actress who wouldn't hurt a fly. Just when the load on his back can't get any heavier, Igor and his band of monstrous misfits uncover an evil plot that threatens their world. Now, they must fight to save it and prove that heroes come in all shapes and sizes.
News & Interviews for Igor
Audience Reviews for Igor
Now with this premise You'd assume something that would be darkly comedic and probably on the lines of something Tim Burton would make or along the lines of Neil Gaimans novels or even the film Paranorman, especially with such talent behind the film. Sadly, that is not the case. First off the acting. Now with such a great cast in this film, You'd expect them all to do good, or at least decent jobs. That is the case, for about 5 characters. John Cusack is good as Igor and makes him likable and does have some good lines. Steve Buscemi is just as funny as he is in other films as Scampers and gets some of the funniest scenes in the whole movie. And while not in the movie a whole lot, John Cleese, Arsenio Hall, and Jay Leno all do good jobs. The rest of the cast is just all obnoxious and very, very annoying. It doesn't help that Brain is played by one of the most obnoxious actors ever IMO, Sean Hayes, and that overly happy voice just adds to the obnoxious personality this character has. Stupid characters can be done two ways, they can either make them kind of funny but mostly annoying (Brain) or they can make them extremely funny and give them great comedic lines as well (Billy or Patrick Star Season 1-5.) I personally think of Brain as what everyone thinks of Jar Jar Binks (And I'm not exaggerating), one of the major things that has no purpose to exist and does nothing for the film and is obnoxious as hell.Eddie Izzard isn't all too great as Schadenfreude, I mean sure he does get the whole evil prick thing down okay but the characters personality and accent just drive me crazy and the girlfriend he has I don't even want to go into detail on how annoying and forgettable she is (Good thing she isn't in it that much.) But the one character I absolutely can't stand in the least among all the main characters is Molly Shannon as Eva. One I hate Molly Shannon as is, in almost everything she is in and this is no different from any of her other roles. One the overly happy personality and constantly stupid actor jokes she does in the film just drive me insane (Plus Molly Shannons voice doesn't help that at all,) I personally liked the character when she first appeared where she couldn't talk at all and was mute, because she did much more funny stuff when she was mute and when she started talking the character completely went downhill. If they made the character mute the whole movie that could've been very interesting and they probably could've more funny scenarios off if she was mute instead of referencing plays and musicals like Annie and wardrobe and makeup design constantly. The only thing that this character has going for it at all is that I like the design, that's about it. Now Animation. Considering this was at the time that MGM was running a little short on cash (Hell they still are) you have to take the animation for what it's worth (especially with a 25 million dollar budget compared to most 100+ million dollar animated films that are made), and to be honest, it doesn't look that bad. The designs of some of the characters are interesting, the invention battle in the Colosseum looks great and all the inventions have great designs. The lighting and movement of the characters I will say is kind of interesting, I don't know if it was just because the film had somewhat of a low production budget, but the characters somewhat move almost like stop-motion at times, especially Jay Leno's character, who moves a lot like how a bug skitters across the ground. While the animation is nowhere near as spectacular as something like Dreamworks or even Warner Bros. it still is pretty decently done. Now the comedy...ugh. Personally the one thing that ruins this film aside from a lot of the characters, is the humor. Oh not just because the comedic relief is Eva and Brain mainly, its because the film only has three comedic goals, film jokes, pop culture references, and dark comedy. Now all three of these styles can work if done right, and this movie can only really get down one style but the other two not so much. It can get the dark comedic jokes right, mainly a lot of the stuff involving Scampers death, and playing around with the only remain of the Doctors body, or his hand, but mainly most of the humor just stems from Brain making a stupid pop culture joke or just a joke about his stupidity, and considering the character is already extremely annoying, it doesn't help. Pop culture jokes are something that rarely work in a lot of senses in animated films or any other kind of film so its hard to make the comedy really work unless you have very smart, talented writer or a place to put the reference. Also the context of these pop culture jokes really don't work. The film seems to have a 19th century style film but has a lot of modern or futuristic styles of technology even a radio and TV station so the film is basically a steampunk style in a way, but in this world, making happy meal jokes and other strange references, it just seems kind of out of place to me, and seeing someone reading a bunch of birthday cards and such it just seems weird to see in a sort of steampunk style world that for the most part has a 19th century feel outside of the inventions and the stations that Arsenio Halls character runs. In worlds like Shrek it works just due to how comedic and satirical the series is (even if I don't like it that much.)Also film jokes really can work well and is some of my favorite kind of comedy, but here's the thing, film jokes mainly in satirization or reviews of films or TV (that's one of the things that makes MSTK3K and Nostalgia Critic so funny)but in a film like this, it really doesn't work in the slightest. Making constant references to wardrobe or plays or delivery can get extremely annoying (especially coming out of the mouth of Molly Shannon) but she doesn't really do anything aside from making those jokes so not only are they not at all funny, they get old very fast. Overall, Igor is a film that I really don't think knows at all who it's trying to please. It tries to be dark, but it fails in most of those categories outside of the humor, it tries to be a kids film, but most of it I think is too creepy and scary for a kid to really handle all that well, it tries to please people who like film satirization but fails terribly, it tries people trying to find a funny animated dark comedy but fails on all levels. I will admit that it does try at points and the animation and humor can be good at times and it does have some good things about it outside of it along with some decent performances, it's just a shame that it al went to waste in this film. I really don't know who to really recommend this film to but I'd say you should be the judge if you should see it or not, or if you like it or not. Me personally, I would like to see a film done with a style like this done right in this steampunk and dark comedic style, but it really isn't done right here.
Michael Edwards
Super Reviewer
½
Kids & Family? Yes. Comedy? Nope. I didn't it funny at all. But was not boring either.
Dead Angel
Super Reviewer
Good fun film that is really up my alley for the setting but it is a rip on many other film ideas, character wise its abit close to call really haha certain Tim Burton ideas are obvious. The look of the film is really cool, I love it, its dark n kooky and has a nice humour about it. The idea with the igor's being a kind of job for all hunchbacks and there are many evil scientists with igor's is a nice touch, the other characters like the king, Jaclyn, Eva etc.. aren't quite as good but Igor's two main siekicks Scamper and Brain are very funny and the best thing in the film. Buscemi is brilliant in his suicidal role, like a pissed off Bugs Bunny :) The ending is way too soft n cuddly but its fun getting there, maybe it should of been made by Burton ;)
Phil Hubbs
Super Reviewer
Igor Quotes
There are no approved quotes yet for this movie.