Julia
(2009)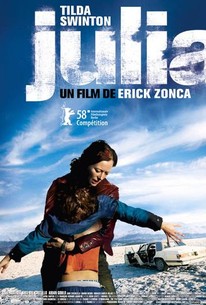 Movie Info
Julia, 40, is an alcoholic. She is a manipulative, unreliable, compulsive liar, all strung out beneath her still flamboyant exterior. Between shots of vodka and one-night stands, Julia gets by on nickel-and-dime jobs. Increasingly lonely, the only consideration she receives comes from her friend Mitch, who tries to help her. But she shrugs him off, as her alcohol-induced confusion daily reinforces her sense that life has dealt her a losing hand and that she is not to blame for the mess she has made of it. Glimpsing imminent perdition, and after a chance encounter with Elena, a Mexican woman, Julia convinces herself--as much in panic and despair as for financial gain--to commit a violent act. As the story unfolds, Julia's journey becomes a headlong flight on a collision course, but somehow she makes the choice of life over death.
News & Interviews for Julia
Audience Reviews for Julia
Excellent performances buoy this seat-of-your-pants day-in-the-life of an lying, manipulative, alcoholic never was almost at the end of the line and fully aware of it. The story, though, like a drunk at the end of the night, does some mindless veering around ...
Kevin M. Williams
Super Reviewer
½
This film is put out by Magnolia Home Ent. Julia is an alcoholic who meets a women who lives across from her that want's Julia to kidnap her son from his grandfather for $50,000 dollars. Julia does everything wrong. After winding up in Mexico, the child she kidnaps is kidnap by Mexicans mean while 2 million dollars is on the way to the airport. In the end what does Julia end up with, if I tell you that it wouldn't be worth watching. A good one to see at home by yourself cause 7 out of 10 people would not enjoy it. 3 stars
Bruce Bruce
Super Reviewer
What a performance! Tilda Swinton really "knocks it out of the park" here as the tragic Julia. I wish I could say that alcoholism was her only problem, but by the end of this film I was convinced that her "issues" ran much deeper and that and that the booze was just her way of "self medicating". In any case it is a highly engaging look at what desperate people will do to avoid (the sometimes brutal reality of) life. It does (at times) feel a bit over the top, but when you consider the fact that there are actually people out there living life in this manner... I kept reminding myself that,what is "crazy" to us is simply someone elses reality.
Julia Quotes
There are no approved quotes yet for this movie.