The Duchess
(2008)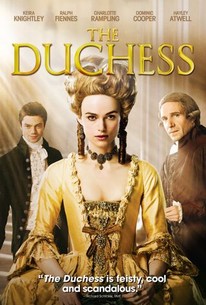 TOMATOMETER
AUDIENCE SCORE
Critic Consensus: While The Duchess treads the now-familiar terrain of the corset-ripper, the costumes look great and Keira Knightley's performance is stellar in this subtly feminist, period drama.
Movie Info
"The Duchess" is the story of an extraordinary woman who rose to fame by staying true to her passions in a world of protocol, gossip and social rules--and paid the price. Long before the concept existed, the Duchess of Devonshire, Georgiana Spencer, was the original "It Girl." Like her direct descendent Princess Diana, she was ravishing, glamorous and adored by an entire country. Determined to be a player in the wider affairs of the world, she proved that she could out-gamble, out-drink and outwit most of the aristocratic men who surrounded her. She helped usher in sweeping changes to England as a leader of the forward-thinking Whig Party. But even as her power and popularity grew, she was haunted by the fact that the only man in England she seemingly could not seduce was her very own husband, the Duke. And, when she tried to find her own way to be true to her heart and loyal to her duty, the resulting controversies and convoluted liaisons would leave all of London talking.
News & Interviews for The Duchess
Critic Reviews for The Duchess
Audience Reviews for The Duchess
A handsomely-mounted period drama that impresses more for its dazzling art direction and costume design than for anything plot-related, telling a half-baked "feminist" story that wants to look like it has some sort of happy ending when in fact there is nothing really satisfying about it.
Carlos Magalhães
Super Reviewer
In The Duchess you have one of those historical biopics - you know, "based on a true story", which since it is only "based upon" gives the screen writer carte blanche to play it any way he sees fit. Even then he and the director arrived at the dock well after the ship had sailed. Sometimes a film is not so much about what it shows you on the screen, but what it infers by innuendo and association. The Duchess is such a film, and it suffers for it. What is allegedly relevant for the film is that said Duchess is a Spencer, and as such, is an ancestor to everyone's darling, Lady Di. The film attempts to draw parallels, showing how the Duchess was an intelligent, strong willed young woman sucked into a marriage of opportunity in 1774 - to which, one infers that she is just like her descendant. The film goes to great length to further this concept, showing ad nauseum all the trappings of being forced into an arranged and loveless marriage; wherein her sole duty is to produce a son and heir for the duke. That she rails against the system makes a sort of feminist statement, and while I abhor the duke and everything he stood for (the assumption of power and moral certitude based on your birthright), and sympathize with any person forced into any contract without their consent - you didn't see this duchess, or Di refusing all the jewels and trappings of royalty. But enough with the socio/political statements, let's discuss the film itself. The cinematography is top shelf and the sets and costumes beautiful, and I suppose you can't really blame Ms. Knightly in the title role - she does the best she can given the material she has to work with. The same can be said for Ralph Fiennes, who aptly plays the stuffy, pompous Duke, who while being an expert manipulator and politician, has some serious issues when it comes to expressing actual emotion. Emotion is what appears to be lacking throughout the film - moments that are meant to be heartbreaking aren't fully grounded by any back-story so they lose much of their potential potency. There are parallels to the film Possession, involving the sacrifices made for children. In Possession the scenes are emotionally powerful, in The Duchess, all the emotion is sucked away, as what should have been an emotional reunion becomes an empty thirty seconds of film. There was potential here that, with a bit more care, focus and development, could have made a wonderful film. Alas, all the attempts to portray the duchess as special and beloved by the people become nothing more than gratuitous scenes of empty pageantry where the duchess spoke, but didn't say anything truly impressive, a fault of the script writer yet again. There are some bedroom scenes thrown in for good measure (it seems a pre-requisite for all period piece dramas), though they are flat and emotionless, even a pseudo rape somehow simply seems matter of fact; as if reading a passage in a pot-boiler novel "ah yes, he took her hard, and without her consent" - not much emotional energy there. Throughout it seemed as if the film was at war with itself - wanting to show the Spencer parallel with a modern carnal sensibility, yet caught in the malaise of gentrified manners while the gossip mongers hinted of infidelities and scandal. It played like a well costumed soap opera until the film finally ran out of things to say and ended up using my least favorite film device: the written narrative conclusion - something that also seems a pre-requisite of quasi historical dramas. Kind of a "they lived happily (or not) ever after" effect. To me, if there was something important you wanted to impart to your audience, you find a way to show it and not resort to such a sloppy stunt. In this case the narrative informed us that shortly before her death the duchess gave her consent for her friend to marry her husband and become the new duchess. But wait a minute!!! The duchess was some 20 years younger than her husband - WTF?? What happened? How did she die before he did? I would have thought that this would have made for a far more interesting tale than the pointless semi political scenes that the film included in a misguided attempt to show some historical perspective.
paul sandberg
Super Reviewer
½
Interesting story and good performances.
The Duchess Quotes
There are no approved quotes yet for this movie.