Quid Pro Quo
(2008)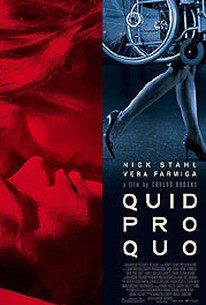 TOMATOMETER
AUDIENCE SCORE
Critic Consensus: Despite a stunning performance by Vera Farmiga, Quid Pro Quo never develops its effective parts into a convincing whole.
Movie Info
A man who can't walk meets a woman who envies his condition in this offbeat black comedy. Isaac Knott (Nick Stahl) lost the use of his legs when he was eight years old in an auto accident that also claimed the lives of his parents. Despite being confined to a wheelchair, Isaac has enjoyed a successful career as the host of a talk show on a New York City public radio outlet. One day, Isaac is told an odd story about a man who arrived at a local hospital and demanded to have his legs amputated; the man was part of a secret subculture of able-bodied folks who wish to be paraplegics, using wheelchairs when they can and attempting to deaden their legs through artificial means. Isaac becomes fascinated with the idea of these wannabes, and begins studying the phenomenon for a piece on his show. Isaac's research leads him to Fiona (Vera Farmiga), a sexy but mysterious blonde who collects and restores Chinese art. Fiona is also the owner of a wheelchair she doesn't really need, and Isaac, who is increasingly attracted to her, wants to know all about her role in the fake-paraplegic underground. However, Fiona isn't about to give away any of her secrets for free, and Isaac discovers that the exchange of information and trust goes deeper the longer they know one another. The first feature film from writer and director Carlos Brooks, Quid Pro Quo received its premiere at the 2008 Sundance Film Festival.
Critic Reviews for Quid Pro Quo
Audience Reviews for Quid Pro Quo
½
Pretty disturbing, but only someone like Vera Farmiga could be sexy pretending to be crippled. Makes you wonder if these people really exist. Decent ending, even though I usually hate suprise twists.
Curtis Lilly
Super Reviewer
Highly charged film about a very dark subject and a not often discussed subculture. A year ago this viewer had never heard of Vera Farmiga. But, the more I see of her work, the more impressed I become. Fiona (Farmiga) is a very disturbed young woman with a secret. Isaac (Nick Stahl) is a paraplegic public radio story teller who gets drawn into Fiona's world and uncovers a truth about himself that he ultimately does not want to face. Powerful performances propel the story that is at once sexy, disturbing, and revealing. Sexy, without being crude, disturbing without being gloomy, and revealing without being voyeuristic. This viewer was fascinated by the story, the acting, and the characters. Atmospheric lighting, and tight cinematography, along with good pacing kept this viewer glued to the screen. At under 90 minutes, this film said a lot in a short amount of time. Four stars.
Mark Abell
Super Reviewer
½
[font=Century Gothic]In "Quid Pro Quo," Isaac Knott(Nick Stahl) has been confined to a wheelchair since the age of 8 when he was injured in a car accident in Upstate New York that claimed the lives of his parents. In the present day, he is an on air personality for public radio in New York City where he is set up on blind dates since his girlfriend Raine(Aimee Mullins), also in a wheelchair, turned down his proposal of marriage. Sadly, the dates rarely turn out well. While investigating a lead on a man allegedly bribing doctors to amputate his limbs, Isaac is contacted by Fiona(Vera Farmiga) who has some insight into the wannabe community but is reticent about being interviewed on the air. What she is not shy about is sharing that she feels paralyzed in a walking body.[/font] [font=Century Gothic]As strangely offbeat as "Quid Pro Quo" is, it also contains a touching story and engaging lead performances. What really makes the movie is an eleventh hour revelation that puts everything in context, including the magic shoes. Oddly enough, the movie is kindly respectful towards the wannabes as inexplicable as their behavior may seem. My best guess would be a certain unappiness and unease in the their own skin but the hint of martyrdom is more than a little distressing. Also surprising is Isaac's willingness to answer the wannabes' questions(that level of reality of creeps them out) even as he encounters the daily difficulties of navigiating daily life in Manhattan from a wheelchair.[/font]
Quid Pro Quo Quotes
There are no approved quotes yet for this movie.