The Broken
(2008)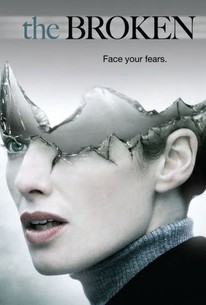 Movie Info
A woman is thrust into a world where everything is subtly unfamiliar in this edgy thriller from writer and director Sean Ellis. Gina McVay (Lena Headey) is a radiologist who is enjoying dinner one evening with her family and her boyfriend Stefan (Melvil Poupaud) when a mirror shatters for no apparent reason. After a few moments, no one thinks much of it, but the next day Gina is leaving work and she sees something even more troubling -- a woman who looks just like her, driving a car identical to her own. Curious, Gina sneaks into the doppelganger's apartment and sees a photo of herself and her father in the hallway. Seriously rattled, Gina runs out and drives away, only to get in an accident that lands her in the hospital. After she's released, Gina asks Stefan if she can stay with him, but while he looks the same, his personality and behavior are quite different from the way she remembers him, and she begins having vivid nightmares which become all the more terrifying when the same horrific images begin popping up in her waking hours. The Broken received its American premiere at the 2008 Sundance Film Festival.
Critic Reviews for The Broken
Audience Reviews for The Broken
The Broken is a stunning metaphor for the depersonalization of a narcissistic society so mesmerized with self-image that it literally breaks through the self-absorbing mirrors --
Sheez, who am I kidding. Freakin' ridiculous movie that I wasted my life energy on so you won't have to. Can't believe I actually watched this all the way through.
It got under my skin, all right -- like a flesh-eating virus.
Lanning : )
Super Reviewer
im not to sure i understand it really i love lena headey but this wasnt i good choice for her !! this movie i think misses the concept of a horror/thriller movie and does little to keep you watching. this movie isnt great i dont think the storyline was particurly good it wasnt well explained and just didnt keep you entertained which is a shame because i love lena headey. its boring with some good killing scenes but its not enough to save the movie. unless you really REALLY like lena headey this movie just isnt worth a watch!
Film Crazy
Super Reviewer
Another 8 Films to Die for Movie from Series #, this is a twisted mine blowing movie, that has to be seen to beleive and figure out. Worth 4 stars.
Bruce Bruce
Super Reviewer
The Broken Quotes
There are no approved quotes yet for this movie.