The Hammer
(2007)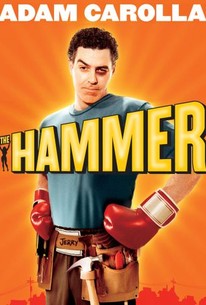 Movie Info
Can a guy edging into middle age become a success fighting guys half his age? That's the big question behind this independent comedy. Jerry Ferro (Adam Carolla) is almost 40 years old, and he's spent most of his life going nowhere -- and taking his own sweet time getting there. While Jerry enjoyed some success as an amateur boxer when he was young, these days he's out of shape, drinks too much, and scrapes by working in construction. Through his work as a handyman, Jerry has landed a part-time job teaching boxing at a gym in Pasadena, though none of his students are likely to ever move beyond sparring as a hobby. One day, one of Jerry's old friends, Eddie Bell (Tom Quinn), stops by the gym with a promising new fighter he's training. Since he's short on sparring partners, Eddie asks Jerry to step into the ring with the young boxer, and while it's clear that Jerry is in lousy shape and out of practice, he also manages to knock out the challenger with one well-placed punch. Eddie is convinced Jerry still has what it takes, and offers to help Jerry make a comeback, confident that despite his age he can land him a spot on the U.S. Olympic Boxing Team. Also starring Heather Juergensen, The Hammer received its world premiere at the 2007 Tribeca Film Festival.
News & Interviews for The Hammer
Critic Reviews for The Hammer
Audience Reviews for The Hammer
½
With a bigger budget, I have a feeling this film could have been a contender. While it does have some wildly funny moments (would you expect anything less from Carolla?) it is severely hampered by its low-budget gags. Also, with low funds means it is nearly impossible to buy some real acting chops. Never has it been more apparent than this film. The amateur cast is laughable at best and spoils any momentum that the film generates. Don't get me wrong. I love Carolla, but the Aceman should have culled some more funds before making this film.
I love my Adam. Not just that. I love that it was a low budget film, yet it still told a beautiful story.
Adam Carolla plays a boxer turned contractor turned boxer in this comedy that turned out to be better than you expect- just not by much. Carolla's character, Jerry Ferro, happens to fall into the quest to become a member of the 2008 Olympic boxing team: at the age of 40. With a film like this you almost groan about how predictable it's going to be- and it is. But there are certain surprises along the way that keep you from remember other boxing films you could be watching right now, like Mandingo. It's a film that's a little above average, but in a world with crap, that could be as good as five stars.
Chris Garman
Super Reviewer
The Hammer Quotes
There are no approved quotes yet for this movie.