The Grand
(2008)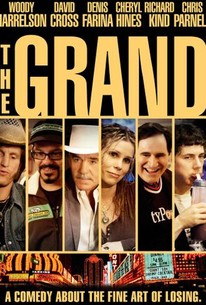 Movie Info
Incident at Loch Ness director Zak Penn takes the helm for this mockumentary that finds film and television star Woody Harrelson entering the Grand Championship of Poker in hopes of saving his late grandfather's popular hotel casino from a scheming real estate developer. As the wrecking ball swings ever closer, Harrelson continually ups the ante in order to take home the top prize at the world's most prestigious poker tournament. Co-stars Ray Romano, Werner Herzog, Cheryl Hines, David Cross, and Dennis Farina all put on their best poker face for a comedy where all bets are off and anything can happen.
News & Interviews for The Grand
Critic Reviews for The Grand
Audience Reviews for The Grand
½
Larry Schwartzman: If people played correctly, I would win every single hand, ever.  "A comedy about the fine art of losing" Having grown up and been around poker my whole life, The Grand is not only an amusing comedy to me, but a hilarious one. There should be a disclaimer on this film though stating something to the effect of, if you don't know a lot about poker, don't watch it. You should follow that disclaimer. If you know absolutely nothing about it; you've never played or watched it, you won't like this movie. End of story. You'll view this mockumentary as just a stupid, pointless, unfunny film. But if you know and love poker, you will get every joke and you'll adore this film.  Everything has its little "in" stuff. Poker has many, and this film plays on them very well. Some stuff the comedy plays on are obvious jokes about glasses or costumes. It's also a nice little parody of the World Series of Poker. There's a lot of jokes about the commentators. The little interviews are an over the top parody of the interviews you'll see on tv, and their actually quite well done. The characters are the best parodies though. My favorite character was Larry Schwartzman played by David Cross. His character is the poker player who goes nuts about other players beating him when they shouldn't have been in the hand. A lot like Phil Helmuth, who actually makes an appearance in the film, along with Doyle Brunson and Daniel Negreanu.  So basically The Grand is a Christopher Guest like mockumentary that uses poker as its subject. It's a great setting for a mockumentary, which is the most important aspect when making one. If you're setting is off, it's just not going to work. All the good ones like Best in Show and Waiting for Guffman chose a setting that few people were actually familiar with and made a joke out of it. The only thing that The Grand lacks that those comedies had, was appealing to people who aren't familiar with the setting. You don't have to be a dog person to find Best in Show hilarious, but you kind of have to be a poker person to find The Grand hilarious. I guess that would be my one huge critique of The Grand. Not appealing to a large audience. There's a great cast in this one and some great cameos as well. Known "poker players" Jason Alexander and Ray Romano are in there. Woody Harrelson is in the lead as One Eyed Jack. He's trying to win the tournament in order to save the Rabbit's Foot Casino, which he took control of after his grandfathers death. Standouts for me were David Cross, who I already talked about and Chris Parnell, who plays a poker genius that isn't socially savvy. In the end, you should know wether your going to like this one or not from the start. If jokes about poker superstitions, egos, and playing styles doesn't immediately make you want to watch it; it is probably a film you should skip. If that strikes you as something you must watch, then you'll probably like it as I did. I know this isn't an amazing comedy, but it is one that knows how to appeal to its base, even if it doesn't know how to appeal to anyone else. Good thing I'm in that base.
Melvin White
Super Reviewer
[font=Century Gothic]In "The Grand," Jack Faro(Woody Harrelson) is released from a 12-step program(one for each controlled substance), so he can compete in a multi-million poker tournament to have a chance to save his grandfather's(Barry Corbin) casino. But he is going to have some very tough competition. Lainie Schwartzman(Cheryl Hines) is so good, she has earned enough money for her children's college education, and provides the rooting interest by being from Long Island.(Yes kids, there really is a Massapequa.) Her brother Larry(David Cross) does his best to keep up. Harold Melvin is an idiot savant who has seen "Dune" way too many times. Andy Andrews(Richard Kind) is an amateur player from Wisconsin who gained entry through a web site. Deuce Fairbanks(Dennis Farina) and The German(Werner Herzog) are the veteran cardplayers.[/font] [font=Century Gothic]"The Grand" is a silly and occasionally funny mockumentary on the subject of televised poker tournaments. Since I usually have something better to do than watch one(which reminds me, "Dollhouse" is on tonight), I cannot consider myself an expert by any means. Regardless, its shots at unctuous commentators and trying to fit people into neat boxes feel like they hit the target. There are some real life people playing themselves which helps the atmosphere and some familiar faces in cameos which does not. Otherwise, the characterizations are hit and miss. While David Cross proves to be an eternal source of annoyance, Werner Herzog is a delight, exploiting his perceived insanity for laughs. [/font] [font=Century Gothic]What truly separates "The Grand" from mediocrity is an unexpected depth from generational conflicts. Larry and Lainie suffer under the thumb of a manipulative father(Gabe Kaplan?!?). Harold has a clinging mother(Estelle Harris). And Deuce is nostalgic for the good old days when you could shoot somebody and dump the body in the desert without anybody complaining.[/font]
½
Larry Schwartzman: I can psych the shit out of people. I don't need cards to beat you. I can literally have no cards, and I would still beat you. You think that's not playing fairly, or that's not the way a gentleman plays? I would fight you over that. A film similar to the mockumentaries like Best in Show made by Christopher Guest, writer/director Zak Penn takes the same structure and focuses it on the world of poker. The film is made up of a number of actors, all of whom improvise their lines after being given a basic setup for their scenes. One Eyed Jack Faro: Building his stack . . . ! Lainie Schwartzman: Yeah, guess I just put that little brainiac fucker back in the game. Harold Melvin: You have the vocabulary of a drunken spice miner and the hairstyle of an Arrakeen whore. The film revolves around a poker tournament, The Grand, which has a jackpot of $10 Million. The main players are played by Woody Harrelson, David Cross, Cheryl Hines, Dennis Farina, Chris Parnell, and Richard Kind. What gives the film a bit more excitement is the fact that the final tournament was played for real. The script had no written ending and while staying in character, the actors all played real poker, hoping to win. The film also features a large supporting cast, consisting of actors who are all good at both poker and improv, as well as a number of famous poker players and poker related personalities. Among these people is acclaimed German filmmaker Werner Herzog in a bizarre but hilarious role. The German: To feel alive and to get this energy, it is essential for me to kill something each day. It doesn't have to be a large animal. I squish an ant once in a while, or spiders, they come very easily. I've shot stray dogs. Goose.. is a very, very troublesome animal. I've had a goat. To strangle a goat, that makes you feel really alive. Among the main actors, Harrelson is made out to be the biggest lead, but I found Richard Kind to be my favorite. He is an actor who's face you'll recognize, but not his name. The scenes involving his character worked the best for me and he also had odd but great chemistry with Parnell. The film actually does a great job at getting you to care for most of the main characters, especially during the closing scenes explaining what has come of them. It also helps that they are very good at the dry humor that goes with the improv concept. There are a few missteps in the film. Some of the comedy is hit-or-miss and the tournament does eventually play out like watching one on TV, which doesn't help the film. There is also a particular scene, which completely breaks the realm of the film's mockumentary setting. There is however, a lot of good fun and entertainment to be had in this movie. Harold Melvin: It is apparent that you have no concept of pot odds. There are a number of books available in the gift shop that explain it quite thoroughly. Also, you have corn in your teeth.
Aaron Neuwirth
Super Reviewer
The Grand Quotes
There are no approved quotes yet for this movie.