Bathory
(2008)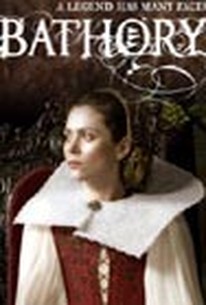 AUDIENCE SCORE
Critic Consensus: No consensus yet.
Movie Info
The infamous Countess Erzsebet Bathory, who is said to have maintained youth and beauty into her old age by bathing in the blood of virgins, has her life story told in a more balanced but still provocative manner in this grand-scale historical drama. Bathory, played by Anna Freil, is portrayed in three important episodes from her life. Bathory falls in love with the legendary artist Caravaggio (Hans Matheson) and attempts to win his heart, which doesn't much amuse her husband Ferenc Nadasy (Vincent Regan). Later, Bathory becomes close friends with Darvulia (Deana Jakubiskova), a woman said to have remarkable healing powers, as observers remark upon Bathory's beauty which seems impervious to the passage of time or the stress of her life. And after the death of her husband, Bathory rises to a position of political power in Hungary, as Palatine Thurzo (Karel Roden) leads a plot to scuttle her ambitions. Bathory also features Bolek Polivka as a monk who narrates the countess's remarkable story. ~ Mark Deming, Rovi
Critic Reviews for Bathory
All Critics (2) | Top Critics (1) | Fresh (0) | Rotten (2)
More of a cinematic curiosity than true blockbuster material, despite its scale.
August 20, 2008
Plays out more like a Monty Python comedy than a serious drama, with a subplot involving roller-skating friar-detectives that makes this already turgid 140-minute bore seem a whole lot longer.
Audience Reviews for Bathory
½
Pretty good, gothic-y drama/thriller about the infamous Elizabeth Bathory. If you've never heard of her, Elizabeth Bathory was a countess in 17th Century Hungary who, according to myth/legend/whatever, tortured and killed loads of her virgin female servants and bathed in their blood as she believed it kept her looking young. The numbers she killed range from the fairly realistic(50) to the insane(650). But in this film, the makers have decided to go for a tale of how she was framed so some other prick could take over her kingdom. Its an interesting story and Anna Friel is great as Elizabeth Bathory, playing her as a lonely, paranoid but ultimately human woman and not the eveil creature you'd imagine from the stories. But i felt it should have been darker. Thats because i love the story of this mental female vampire type character so personally would have loved to have seen the film from the perspective of the Countess being an evil bitch. But for what it is, its good.
Bathory Quotes
There are no approved quotes yet for this movie.