Appaloosa
(2008)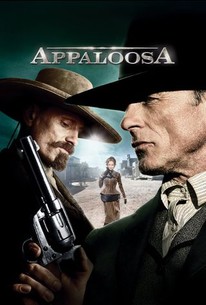 TOMATOMETER
AUDIENCE SCORE
Critic Consensus: A traditional genre western, Appaloosa sets itself apart with smart psychology, an intriguing love triangle, and good chemistry between the leads.
Movie Info
Upon drifting into a troubled Western outpost and discovering that the helpless locals are being terrorized by a ruthless rancher and his brutish hired hands, two rugged, straight-shooting peacemakers decide to stick around and put things right in this Western adapted from the novel by Robert B. Parker and directed by Ed Harris. Bragg (Jeremy Irons) is a rancher who believes himself to be above the law, a stance that's forever cemented when he guns down the town sheriff and his deputy in cold blood. Horrified, the defenseless townspeople pray for the day a savior will arrive in town to free them from Bragg's suffocating grasp. Soon thereafter, Virgil (Harris) and Everett (Viggo Mortensen) stride into town atop two mighty steeds, their confident presence signaling the beginning of a new era if the locals will only grant Virgil the complete power he needs to bring Bragg to justice. After pinning on his new badge, Virgil appoints Everett his deputy and ushers in an era of uneasy peace. Later, a woman named Allison (Renée Zellweger) arrives in town and catches Virgil's eye, prompting a die-hard renegade to consider a calm life of domestication. As Virgil's feelings for Allison grow, both begin to wonder if a life together is truly in the cards. Meanwhile, a temporarily subdued Bragg begins to display signs that he may not be finished with this town just yet. ~ Jason Buchanan, Rovi
News & Interviews for Appaloosa
Critic Reviews for Appaloosa
Audience Reviews for Appaloosa
A friendly little Western film with two great leading men that doesn't seem to dare to scare its audience all that much. There is relatively little tension, a bit of banter and a somewhat anticlimatic ending. At least the road there is somewhat unpredictable and refuses to follow the well known paths of the genre all that closely. Entertaining and satisfying enough. Zellweger is a classic mis-cast, though.
A great, sensational and old-fashioned entertainment crafted by a superb performer and fine filmmaker. A masterpiece. A skillfully and brilliantly made western laced with wit and adventure. It's packed with explosive action and dazzling suspense. A thunderous and breathtaking classic that will astound you. Ed Harris and Viggo Mortensen are magnificent. Harris is magnetic, giving one of his best performances and an excellent approach as the director. Mortenson is outstanding, giving another compelling and fantastic performance. Renee Zellweger is extraordinary, you truly believe this actress can truly play anybody. Jeremy Irons is riveting, giving a knockout performance. A powerful and unforgettable film. An exhilarating film that will move you with it's power, characters and story. A great amount of action, thrills, fast-humor, romance and drama. It's pure excellence with great character development.
½
We've seen it all before: a small town terrorized by a vile gang of outlaws; having their own way as if nothing could ever break their stride. That is, until a new sheriff and his entourage shows up to challenge their sway - fearless in their attempt to establish some law and order. In that regard, this isn't exactly what you'd call a groundbreaking picture. Thankfully, however, this routine formula is but employed in the beginning of the film. What follows is something of less predictable nature; taking us on a voyage more variable and unforeseen. An appealing gunslinger tale, blessed by the presence of formidable actors like Ed Harris, Viggo Mortensen and Jeremy Irons. All of them bringing a quality to the screen that more than compensates for the hackneyed first chapter. Additionally, it deserves to be said that I was entertained throughout. Not spectacular in any way, but solid without question and well worth the view.
Appaloosa Quotes
There are no approved quotes yet for this movie.