Rails & Ties
(2007)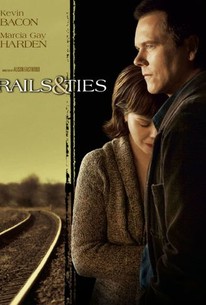 Movie Info
Kevin Bacon, Marcia Gay Harden, and Miles Heizer star in director Alison Eastwood's tale of two families locked into an emotional -- and physical -- collision course. There once was a time when Tom and Megan Stark had all the time in the world to take their dream vacation and start a family, but these days the couple's marriage is suffering and their time appears to be running short. Megan has been diagnosed with a potentially terminal illness, and when the prospect of losing his wife becomes too much to bear, railroad engineer Tom seeks escape in his work. On the tracks Tom is in control; all the routes are predetermined and he knows he'll eventually arrive at his destination. But sometimes even the most predictable events can go suddenly awry, and when Tom's train hits a car that was parked on the tracks by a suicidal mother, his life is plunged into ruin. While there was no way that Tom could have possibly stopped the train on time, the grieving conductor's woes are suddenly compounded upon realizing that he may lose his job because of the accident. Not only that, but the deceased woman's son, Davey, is consumed by the guilt that he could do nothing to prevent the accident, and he now places the blame for his mother's death squarely on Tom. But not all sad stories have to end in tragedy, and perhaps in the aftermath of this fateful accident Megan could receive a second chance at fulfilling her dreams, Tom could learn to open his heart before he is consumed by bitterness, and Davey could finally learn the true meaning of family.
News & Interviews for Rails & Ties
Critic Reviews for Rails & Ties
Audience Reviews for Rails & Ties
Leigh Ryan
Super Reviewer
½
Kevin Bacon is Tom and Marcia Gay Harden is Megan - a couple who are having difficulties with their marriage. Not only that, but Megan has cancer. Tom withdraws into his work - as a railroad engineer, but even that is messed up when he crashes his train into a car parked on a crossing - killing a suicidal mother. When the 11 year-old son of that suicidal mother comes to Tom's house to accuse him of killing his mom, Megan sort-of adopts him - and perhaps all three of them can begin to heal.
[font=Century Gothic]In "Rails and Ties," Tom(Kevin Bacon), a train engineer, is advised to take some time off to care for his wife Megan(Marcia Gay Harden) who is dying of breast cancer. He refuses, trying to bury himself in his work. But that decision is taken out of his hands when Laura(Bonnie Root) drives her car onto the tracks in front of his train. Tom goes by the book and slows down, not hitting the emergency brake which could cause a derailment. Luckily, her 11-year old son David(Miles Heizer) escapes unscathed before the car is totaled, killing his mother. After the crash, Tom is suspended, pending a hearing and investigation. When he gets home, Megan shows interest in learning how to play the piano and visiting San Francisco, one of the stops on his route(more or less). Meanwhile, David runs away from his foster mother(Margo Martindale).[/font] [font=Century Gothic][/font] [font=Century Gothic]While stretching credibility to the breaking point, "Rails and Ties" still manages to be worthwhile due to its raw intensity and honesty in exploring mortality which can make us see how precious the little things in life really are.(At least, it does not put train travel into the mortality equation.) And excellent performances from Kevin Bacon and Marcia Gay Harden certainly help. [/font]
Rails & Ties Quotes
There are no approved quotes yet for this movie.