Birds of America
(2008)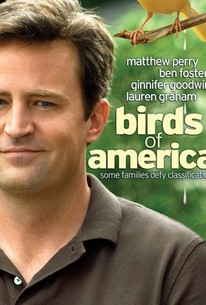 AUDIENCE SCORE
Critic Consensus: No consensus yet.
Movie Info
Morrie Tanager never got to leave his family home. His parents died and he was left to raise his two siblings, Ida and Jay. Life is no bed of roses. Morrie stuggles to juggle his own personal and professional life, while making amends for the trouble his free-spirited brother and sister cause about town.
News & Interviews for Birds of America
Critic Reviews for Birds of America
Audience Reviews for Birds of America
Liked this a lot. Very understated and moves slowly, but effective portrayal of a dysfunctional family with an outstanding cast. Will not be to all tastes, but I enjoyed it. Rewatched 23/2/15 I have downgraded this a star. I definitely enjoyed it less second time around, although it's not a bad movie. Kind of off putting watching the brother walk around with his bloodied bandage all the movie. Surely he would have been given a clean one on leaving the hospital. Also, much as I like Lauren graham, her character annoyed me this time. So sick of women like that in movies. Ditto Hilary Swank,though the ending was mildly amusing. I don't know. It was okay but won't watch a third time.
Nicki Marie
Super Reviewer
Cast: Matthew Perry, Ben Foster, Ginnifer Goodwin, Lauren Graham, Zoë Kravitz, Hilary Swank, Gary Wilmes, Daniel Eric Gold, Takako Haywood, Jennifer Gargano Director: Craig Lucas Summary: With his daffy neighbor (Hilary Swank) serving as his sole diversion from the daily grind, Morrie (Matthew Perry) feels stifled by his suburban existence. But circumstances change when he's forced to reconcile with his younger brother and sister (Ben Foster and Ginnifer Goodwin). They resented him as a surrogate father when they were growing up, but now their freewheeling ways could prove to be Morrie's salvation. My Thoughts: "I really liked this movie. Thought it was funny, dark, and really interesting. Love indie movies. I think they are the best kind of movies. Love Ben Foster in this. Matthew Perry was great, and it was good to see him in more of a drama type film then comedies.. Loved Ginnifer Goodwins character. She was a free spirit. Hilary Swank was quite boring though. It's basically about three siblings still grieving over their parents death and trying to accept each other and the way they live their lives.. I just think that some people can relate. I think its a movie worth seeing."
♥˩ƳИИ ƜѲѲƉƧ♥
Super Reviewer
½
Poky and not terribly entertaining. Ben Foster is good given the confines of his role but this purported comedy is a downer.
Birds of America Quotes
There are no approved quotes yet for this movie.