Unearthed
(2007)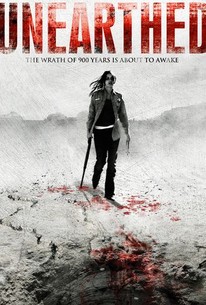 AUDIENCE SCORE
Critic Consensus: No consensus yet.
Movie Info
When an unexplained trucking accident knocks out phone lines in the town of Pueblo, NM, and blocks the only route out of town, an investigation into the cause of the crash reveals an otherworldly creature that could pose a threat to the entire human race. Awakening from her usual hangover to investigate a herd of cattle that has been mutilated almost beyond recognition, Pueblo sheriff Annie is summoned to the scene of a mysterious semi accident. Though the only clue as to the identity to the driver is a severed limb, Sheriff Annie does discover a bizarre, crab-like leg stuck in the grill of the scorched tanker. Meanwhile, on another stretch of the same highway, vacationing sisters Ally and Caya stop to pick up a ruggedly handsome ranch hand named Charlie, whose car has stalled out miles away from a gas station or repair shop. Upon arriving at the only gas station in Pueblo, the trio is greeted by Nodin and her grandfather and informed that not only are the pumps dry, but that the only route out of town is blocked by the accident as well. Also trapped at the station is traveling salesman Frank, who specializes in synthetic urine. As night draws near Sheriff Annie arrives at the gas station to share her strange discovery with botany specialist Nodin, who can find no earthly explanation for the unidentified appendage. Later, when Ally decides to pitch in by taking out the trash, she is savagely mauled by a vicious creature that has just torn the patrons of a local bar limb from limb. As the night drags on and the bloodbath continues, the frightened group discovers that their only hope for survival may the very same Native American girl responsible to unleashing the relentless beast in the first place. ~ Jason Buchanan, Rovi
Critic Reviews for Unearthed
All Critics (4) | Fresh (0) | Rotten (4) | DVD (5)
The director compliments the muddled lighting with shaky camera work and rapid-fire editing that make most of the action scenes completely incomprehensible.
A desert-set Aliens rip-off with no-budget creature effects that look like H.R. Giger by way of "South Park," Unearthed is a dismal failure on every level.
A 'B' horror movie not bad enough to be good, Unearthed fails to build tension while also failing to give us a good monster.
July 10, 2007 | Rating: 5/10
Audience Reviews for Unearthed
½
This horror movie in which Emmanuelle Vaugier is the lead. It instantly sounded like a B-Movie, and looked like one, so I didn't go in expecting for the movie to be amazing - just at least good. The creature is OK, but nothing special at all. The acting is good, and one of the only good aspects of the film. Vaugier is great as always, and Beau Garrett and Tonantzin Carmelo are good as well. The others are good, but those three were the only ones I was interested in as they gave the strongest performances. Luke Goss did seem kind of pointless though, and added nothing to the film. It's a shame that this movie has a range of great actors, yet they are given cardboard characters to work with.
Dean McKenna
Super Reviewer
½
This is from the 8 films to die for series 2007. This one is OK, the monster wasn't all that scary. It was all that bloody, am I getting Horror / SciFi Burnout, I hope not, what would I live for, Comedy, ha I doubt That. Anyway some good acting Its worth buy or renting. It will stand in my collection.
Bruce Bruce
Super Reviewer
Unearthed is an incompetent mess that's not only boring but doesn't even have a real plot.
Roy Gutteridge
Super Reviewer
Unearthed Quotes
There are no approved quotes yet for this movie.