Spiral
(2007)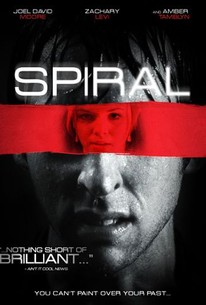 Movie Info
A reclusive telemarketer's dysfunctional friendship with his boss is alleviated when a whimsical co-worker enters his life. But as he begins to sketch his new friend''s portrait, disturbing feelings from his past threaten to lead him down a path of destruction.
Critic Reviews for Spiral
Audience Reviews for Spiral
Psychological thriller. Mason is a loner with a crappy 9-5 and only one person he could call a friend. His boss, Berkeley. That is until he meets the new girl at work, Amber. A friendly, slightly quirky girl who connects with Mason almost straight away and after a while Mason has invited her to his apartment to share his hobby; painting. His big love alongside jazz. And soon Mason is painting portraits of Amber as the pair move closer but Masons past and the possibility of a deadly secret could put Amber in danger. As a fan of director Adam Green, I was impressed with his work on Spiral. The film is more about character and mood so this is completely different to his work on the Hatchet movies and, like his other film Frozen, shows he can do tension and suspense without chucking a load of blood in your face. The cast do a great job to. Joel David Moore brilliant as Mason and lovely Amber Tamblyn also great as Amber. Spiral might not appeal to fans of conventional horror and Adam Greens other stuff but for those that enjoy more psychological, slow burning thrillers/horrors, Spiral is well worth checking out. Spiral was rated 18 on DVD in the UK(I'm guessing that'd be R in the US?) but don't read anything into that. The film is no more than a 15. Think the BBFC gave it an 18 as an 18 rated film was in the trailers(?!)
The ending was the best for sure. This movie is about a quiet/awkward guy named Mason who is a very talented painter. His only friend is his coworker Berkley. Mason meets a girl and they become friends. He starts painting her, and things get ugly a little bit afterwards. ***SPOILERS**** After watching the first like 30 minutes, I already predicted Mason was a schizophrenic who was just imagining Amber. When Berkley told Mason at the end that the girls he had dated weren't real, I was like oh yeah, I called it. But then it turned out the girls did exist and Mason really had killed them all. I was like whoa shit! I didn't see that coming. It was awesome. That was a good twist to throw in. I thought for sure it was going to be the same twist I've seen before where the guy just hallucinates, but I'm glad this movie wasn't like that. I really liked it. The only thing I didn't like about this film was the acting. The girl who played Amber was really, really obnoxious. She was loud and annoying and a little weird to be honest. I mean Mason definitely isn't the cutest guy and he's really strange. Why would a pretty girl like Amber keep messing with him trying to figure him out? He's obviously a messed up dude. I don't really understand what she saw in him, but I guess she got what she deserved in the end. She was a bad actress too. The one scene where she was pretending to cry was a total fail. My horse could have done that scene better. Overall I thought it was a good movie. The twist was good.
½
Rented this after being so impressed with Green?s Frozen.  I thought it was okay at best, but I really loved the ending.
Christopher Brown
Super Reviewer
Spiral Quotes
There are no approved quotes yet for this movie.