Borderland
(2007)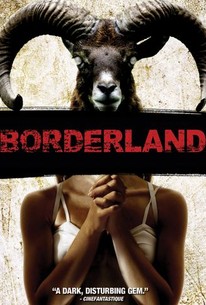 Movie Info
When three Texas University students travel to a Mexican border town on the eve of their graduation, the last thing they expect is to face their own deaths.Without warning, they fall prey to an ancient blood cult hellbent on finding candidates for human sacrifice. Based on true events, Borderland tells a story which blends the raw fear of Texas Chainsaw Massacre with the stark reality of In Cold Blood, evoking a world soaked in paranoia, fear, and dread.--© After Dark Films
News & Interviews for Borderland
Critic Reviews for Borderland
Audience Reviews for Borderland
One of the better 8 Films to Die For. Loosely based on a real cult murder, Borderland is a solid thriller (if you don't mind graphic violence or what is today called torture porn). I'd put it amongst the ranks of films like Hostel and Saw, although this one leans more towards action-oriented thrills by the end. If you don't mind a bit of gross-out horror, Borderland honestly succeeds at delivering an "it could happen to you" sort of scare-fest.
Cynthia S.
Super Reviewer
½
Well Out of the 8 Films To Die For 2008 Collection This is one of the best and most intense out of the ones I have seen so far. If you get pass the first scene they you got it made. Plop Plop Fizz Fizz oh what an Eye Ball That Is. This one has some slashing in it. A Good addition to a Horror Party Weekend / Film Fest, Remember to invite me, but leave tha Machette's at home. Add it to my collection.
Bruce Bruce
Super Reviewer
It is difficult to rate this movie. It is billed as a horror film and based upon true life events. The watered down blend comes up lacking something in both genres. The premise is based upon the real life Santiera practitioners in Mexico. Torture is a staple in their rituals as screams appease their "gods" and the brutality is evident, but while the base in reality made this a bit more horrifying they took it too far in that direction and left out too much of the "horror." The torture is real enough, but culled down. The "soulless" minions are very earthbound. The message of what man will perpetrate upon man in the name of his "god" is there, but gets lost in the mire. Had they depicted the slaughters more intensely and, to be frank, really put more into the gore and fear and not toned it down it would have been a real fright. It earns decent marks for the acting and for its reality based premise (and yes, Sean Astin does well as a bad guy), but it was just not chilling enough. I need more fright from the "8 films to die for" category and this one did not give that to me. Still, a decent watch, but not as a true "horror" film.
Borderland Quotes
There are no approved quotes yet for this movie.