The Ten
(2007)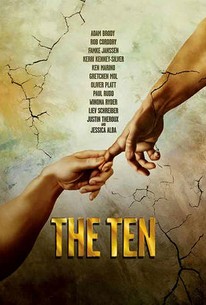 TOMATOMETER
AUDIENCE SCORE
Critic Consensus: Although a few of the sketches that make up The Ten are humorous, the uneven and random tone of the film cause it to fall apart.
Movie Info
Composed of 10 vignettes, each one inspired by one of the Biblical commandments, "The Ten" is an irreverent but hilarious illustration of how bad behavior makes for good comedy. With each story told in a different style, but containing overlapping characters and themes, the film is a grand burlesque boasting an all-star cast that puts the sin back in cinema.
News & Interviews for The Ten
Critic Reviews for The Ten
Audience Reviews for The Ten
½
A series of ten short comedies each centered around one of the ten commandments (i.e., it's the DECALOGUE re-imagined by an alumnus of the sketch comedy series "Mad TV" and "The State.") Par for the anthology course, some are funny (the twins looking for their real father) and some are duds.
A certain critic described this movie as "The Best Comedy since Borat". I hardly agree. In fact, I would more likely argue The Ten to be one of the worst comedies I've ever seen, along with Epic Movie and Evan Almighty. Believe it or not, but I even think Evan Almighty was a little less bad, as it at least had respectable actors and a cool CGI flood in the end. Too bad it didn't sweep away this piece of trash in the process. I can't quite put my finger on it, but there was just something about the writing that felt very lame, childish and dumb. Maybe some people find it hilarious (after a lobotomy or two), but I certainly didn't. Sure, it was original in the sense that it comprised of ten small stories (based on the ten commandments), but the jokes weren't funny at all, so the only thing that kept it somewhat alive for me was the actual storytelling, which gave it a little merit entertainment-wise. But that's about the only positive thing I can say about this so-called comedy. I can't believe I sat through the whole thing. Avoid if you know what's best for you!
The Ten is a really crazy movie. It feels more like an Adult Swim live action show then a movie and should of just been fifteen minutes long. This movie has this random, hit or miss style of humor which truly buries itself in the ground. It consists of sketches based off the ten commandments and tries to be satirical, but ends up devoid of meaning. Overall, its just a stupid movie. I think Paul Rudd is awesome, but he just couldn't save this mess of a film.
Chris Miele
Super Reviewer
The Ten Quotes
There are no approved quotes yet for this movie.