Destricted
(2006)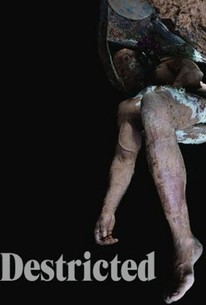 Movie Info
As helmed by a series of avant-garde performance artists and provocateurs, the seven-episode omnibus picture Destricted both pays homage to classic porn and deconstructs the concepts of obscenity and voyeurism, with a series of extreme tonal variations on the sexual act. The premier episode, artist Matthew Barney's "Hoist" (which is laced with transsexual metaphors) depicts a bizarre mating ritual between a man with a giant cucumber for a penis and a 50-ton deforesting Caterpillar truck. For the second go-round, House Call, notorious still photographer Richard Prince (best known for "re-photographing" the Garry Gross nudes of Brooke Shields) re-shoots to the point of graininess (and re-dubs) images from a "classic" hardcore sequence involving an encounter between a stud (John Saint John) and a chesty woman (Kora Reed), and their kinky games with a thermometer. Commercial veteran Marco Brambilla authored the third episode, "Sync" - a kind of "teaser" - by splicing together thousands of split-second sequences from sex scenes in both hardcore and mainsteam features, and "matching up" the action (creating a sequence with it of the various film segments), from foreplay to climax. Controversial director Larry Clark (Kids, Ken Park) authored the fourth (and longest, at 38 minutes) segment, entitled "Impaled"; it begins with a series of spontaneous, one-on-one interviews with adolescent boys, where Clark asks them intimate questions about their sexual fantasies and sexual desires, and indicates that he plans to select one to undergo an unsimulated, hardcore sex scene with an actual porno actress. The film then cuts to the "act" itself, which proves ironically mechanical and untitillating for its male participant. Sam Taylor-Wood' "Death Valley" constitutes the fifth segment and offers an extended (voyeuristic) glimpse of a man in the desert who masturbates to ejaculation. The sixth segment, Marina Abramovic's much-acclaimed "Balkan Erotic Epic," provides a riotous parody of ethnic sexual rituals, in which women expose their breasts and "mate" with the ground, and men fertilize gardens with their semen. And Gaspar Noe's closer, "We Fuck Alone," combines the influence of Tamaño Natural and Flicker by depicting copulation between a man and an inflatable sex doll - as filmed beneath an alienating strobe light. As a measure of U.S. society's love-it-or-hate-it conservatism, this picture ran at the 2006 Sundance Film Festival but skipped U.S. arthouse distribution (to say nothing of a mainstream American release). It did, however, receive a European theatrical run.
News & Interviews for Destricted
Critic Reviews for Destricted
Audience Reviews for Destricted
½
Words fail me. I knew what I was getting into before renting this - an artistic look at porn in our society from the point of view in short film by various film makers. Not really something I would generally be drawn to, but I thought I would give it a go to see the Larry Clark one. Of all, his would be the best film - he interviews some young guys looking to get into the industry and some of the girls. That is actually quite informative and brings some much needed humanity to this collection. Much of it is pretty gross and sterile. None of it, (in my opinion) is titilating - not what I was looking for anyhow, but I can figure some people would rent it thinking that. I'm sure there is some big statements being made here, but it's over my head. If you like Larry Clark, may be worth a look just to check out his short film, but otherwise couldn't really recommend this.
Nicki Marie
Super Reviewer
½
Where sex meets art. And then they both meet boredom. I know the films are made as art, and don't necessarily have to have a narrative (even though, one of the better shorts, Clark's Impaled has a very loose narrative, probably making it my favourite), and much it's much like watching the Cremaster films (speaking of Cremaster, Barney's film was pretty good in this too) only with more dudes whacking off. The one I rented this one for, Noe's, We Fuck Alone, was decent if only for it's audacity with it's strobe effect and constantly moving camera à la Irreversible, but when it comes right down to it, it's just more whacking off. My suggestion is, if you watch it, view it in sections just to keep hardcore boredom at bay.
Christopher Brown
Super Reviewer
An extraordinarily tedious collection of X-rated short art flicks.
Ross Collins
Super Reviewer
Destricted Quotes
There are no approved quotes yet for this movie.