Dreamland
(2006)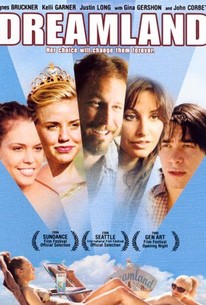 Movie Info
A selfless teen who has always put the needs of others before her own experiences a personal crisis after setting her best friend up with her handsome new neighbor in an affecting coming-of-age drama starring Agnes Bruckner, Kelli Garner, and Justin Long. Ever since Audrey's (Bruckner) mother died, the compassionate 18-year-old has dedicated her life to caring for her still-grieving father (John Corbett). Despite her desire to go to college and get an education, Audrey remains at her father's side in the remote New Mexico desert community, and passes her free time away in the company of her best friend, Calista (Garner). Calista wants nothing more than to become the next Miss America, though her dreams of continental acclaim are soon sidelined by a sudden, life-changing illness. In the lazy summer following her high-school graduation, Audrey is surprised to see a couple named Mary (Gina Gershon) and Herb (Chris Mulkey) move in to her neighborhood along with their handsome teenage son, Mookie (Long). Though at first Audrey sees Mookie's arrival as a chance to bring a little romance into the life of her friend Calista, after setting the pair up on a date and getting to know her new neighbor a little better, the young matchmaker soon begins to develop feelings for her best friend's new boyfriend. When you've dedicated your entire existence to bettering the lives of others, how do you find true happiness when the only way to be true to your feelings is to go against everything you've ever stood for?
Critic Reviews for Dreamland
Audience Reviews for Dreamland
"Dreamland" is down-to-earth and everything an independent film should be. The cast is by far the gold lining of the film, with John Corbett delivering his most touching role yet. Kelli Garner shows off her stunning good looks while playing a struggling MS patient, adding a much needed depth to her character. Never having experienced Agnes Bruckner before, she definitely earned herself an IMDB.com look up. Who would have thought a film about a trailer park in the desert could have so much heart?
Christopher Haskell
Super Reviewer
½
Others may not enjoy this movie as much as I did because I felt a real connection to the character with MS (Multiple Sclerosis) because I also have MS. The dreams to escape the reality of the situation she lives in is TOO familiar!! Dreamland could just as easily be where I am (and it is)! Making the best of a bad situation and finding hope and learning to live with situations are all common elements of my life I saw on screen in this film. A personal connection is why I love this movie so much!
Thomas Johnston
Super Reviewer
Liked this a lot. Very moving and the whole cast do a great job with this (even John Corbett who is normally the kiss of death in a film as far as I am concerned). It's a fairly small film in that not a lot happens, but it is beautiful to look at (who would have thought life in a caravan park could be picturesque!), and Agnes Bruckner and Kelli Garner so convincing that you can't help but care about their lives and what happens to them.
Nicki Marie
Super Reviewer
Dreamland Quotes
There are no approved quotes yet for this movie.