Dirty Deeds
(2005)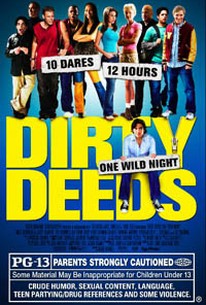 Movie Info
A guy is forced to do a lot of stupid stuff to protect the girl of his dreams in this teen comedy. Zach Harper (Milo Ventimiglia) is a senior at a high school with a strange tradition in which upcoming graduates are challenged to perform a series of pranks known as "the Dirty Deeds" if they want to avoid a humiliating encounter with the football team. In Zach's case, Dan Lawton (Matthew Carey) is a jock who has always had it in for him and has made it clear that if Zach can't complete the "Dirty Deeds," he won't be the only one in trouble -- he'll also go after Meg (Lacey Chabert), the girl Zach's sweet on, as well as Meg's little brother. Dirty Deeds also stars Charles Durning, Tom Amandes, and Mark Derwin.
Critic Reviews for Dirty Deeds
Audience Reviews for Dirty Deeds
Zach Harper: I.A.B... It's All Bullshit !  "10 Dares. 12 Hours. One Wild Night." This review is for the Unrated version. I haven't had the pleasure of seeing the PG-13 version and probably never will. Well, I guess Dirty Deeds was a little better than I expected; but it still sucked. Nothing about it is really that funny and most of it is just carried over comedy from different teenager/high school comedies. The movie couldn't even make it 15 minutes without using it's first fart joke(but, boy was it funny... not).  The characters are cutouts of every stereotypical high schooler. You got your jocks, emos, nerds, gangsters, wannabe gangsters and of course the kid who fits into no one special group. He is our hero, Zach Harper. Zach is trying to complete the ten dirty deeds, which are so creative. I mean the writer must of really thought hard and long about these "deeds." How could he come up with a deed as clever as "Drink a beer in front of a cop." Pure genius at work.  Somehow the predictable plot and stereotypical characters was still slightly entertaining though. I was never bored while watching the movie. But that's more because it was funny seeing just how stupid this movie could get and not because it was a quality film. When put into the genre of Late Night Comedy, which this is, it's definitely not the worst thing that could have been made. There's been a lot of movies, similar to this one, that are a lot worse. That's the sole reason why I'm giving the rating I am(2 stars)and not the one I should(1 star).
Melvin White
Super Reviewer
½
It's end of High School year time and it's prank night!! Mix in porkys and all the other modern day high school movies and this is what you get. It's about a guy who takes on the 10 dirty deeds, it hasn't been done for years and the last person to complete them all was about 13yrs ago and for the last bunch of years no one has tried and before that some only managed to do a few. Has everything you expect, dorks, jocks, pot heads, white guys pretending to be black, house party thrown by a freshman trying to get in with the seniors, thick cops, boob shots, ditsy cheerleader types. and 10 pranks to be done by one guy All been done before and been done better, but still it's quite watchable.
Cassandra Maples
Super Reviewer
I thought this was pretty well written and the characters were a bit more realistic than in most American Pie movies. The regular theatrical release is PG-13, so the dirtiest stuff is only suggested. There are some strange coincidences and holes in the plot that are problems, but overall the story is enjoyable as a treasure hunt/anti-authority comedy.
Byron Brubaker
Super Reviewer
Dirty Deeds Quotes
There are no approved quotes yet for this movie.