The Matador
(2006)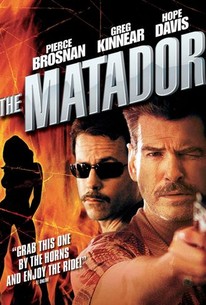 TOMATOMETER
AUDIENCE SCORE
Critic Consensus: This humorously amoral, oddball comic thriller features strong performances by Pierce Brosnan and Greg Kinnear as a flamboyant, aging hit-man and an out of work suburban businessman, respectively.
Movie Info
A chance meeting between two middle-aged men leads one into a life of crime in this offbeat comedy. Danny Wright (Greg Kinnear) is an American businessman whose life has been going through a sour patch after he and his wife, Carolyn (Hope Davis), lost their young son. During a business trip to Mexico City, Danny strikes up a conversation in a hotel bar with fellow out-of-towner Julian Noble (Pierce Brosnan), and while Julian's loud and brassy manner initially puts Danny off, in time the two become friends, and Julian feels comfortable enough with Danny to tell him what he does for a living. It seems Julian is a hired killer working under the auspices of underworld kingpins Lovell (Dylan Baker) and Mr. Randy (Philip Baker Hall), and Julian tries to persuade Danny to help him with his latest assignment. Danny refuses, but a few months later a distraught Julian appears unannounced on Danny's doorstep. It seems Julian has blown his two most recent assignments due to a variety of psychosomatic illnesses, and now Lovell and Mr. Randy want him dead. Julian has also done something to put Danny in his debt, and the previously non-criminal businessman is forced to help his friend stage a hit, with Julian's presence in his home upsetting the precarious balance of Danny and Carolyn's marriage. ~ Mark Deming, Rovi
News & Interviews for The Matador
Critic Reviews for The Matador
Audience Reviews for The Matador
I had high hopes for this film; unfortunately it didn't do it for me. I was very disappointed with the film. I felt that the film was way too long and took too much time to get to the point. Even with a great cast, The Matador is a mediocre film that has nothing really interesting going for it. I thought the film could have been much better and it had plenty of wasted potential. I didn't like the film, and was quite forgettable to be honest. This film really could have been a great film, but I felt that the script really didn't have anything really remarkable about it. The Matador is a long film that is just boring, not even the great cast can save this film from being bad. I really couldn't get into this film, and I felt it could have been much better than what it turned out to be. This is just an overrated film where there's nothing going on-screen. The film missed the mark, and wasn't entertaining. This film could have been much better, but it fails because it's too boring. As far as the comedy is concerned, I didn't see anything funny about it, and it just failed at being enjoyable, funny and memorable. The Matador is forgettable and it just doesn't have anything worth mentioning. I think it's too bad because the cast was great, but the films plot, I felt didn't work. I didn't like this one, and though not awful, it's simply not very good either.
½
Julian Noble is a jaded and lonely hitman going through a mid-life crisis. Danny Wright is a mild mannered salesman whose business is struggling. They meet one another in a chance encounter while on business trips in Mexico City and from there the two form an unlikely and awkward friendship that begins to have a profound effect on them. If the image of a moustachioed Pierce Brosnan wearing cowboy boots and a speedo intrigues you, then this is a movie for you. Brosnan is delightful as Julian, and you can tell he's having fun making little jabs at his tenure as James Bond. As Danny, Greg Kinnear makes for a solid foil against Brosnan's Julian, and he's good, though overshadowed. Hope Davis is also rather funny as Danny's loving wife who reacts to Julian in a surprisingly funny way. The film is a dark comedy, with some elements of action and intrigue, and it mostly works, but even then, the tone is all over the place, and it seems difficult to sometiems tell what the film wants to be. It's still pretty agreeable and very entertaining though. The story isn't spectacular, but the performances and likeability of the characters make it work. If you want something fun and different, then check this out.
Chris Weber
Super Reviewer
½
A pretty good film about a hitman (Pierce Brosnan), who meets a pretty normal guy with a life full of bad luck (Greg Kinnear). They become friends and our hitman is losing his skills. He shows up at Danny's house to enlisted him in one last hit before he retires. Its an enjoyable film a little comedy with Action Adventure. 3 1/2 stars.
Bruce Bruce
Super Reviewer
The Matador Quotes
There are no approved quotes yet for this movie.