The Narrow Margin
(1952)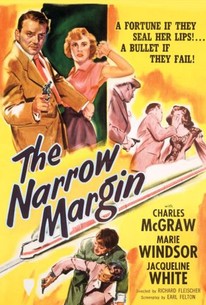 Movie Info
The Narrow Margin is generally considered a "model" B picture; some film buffs go farther than that, labelling this 1952 RKO suspenser as the best low-budget studio production ever made. Nail-hard detective Walter Brown (Charles McGraw) is assigned to protect gangster's widow Mrs. Neall (Marie Windsor) as she rides the train from Chicago to LA, en route to testifying at a grand jury. There's no love lost between the ill-tempered Neall and Brown, especially since Brown's partner (Don Beddoe) was killed by mobsters while shielding Neall from harm. On the train, Brown makes the acquaintance of a likeable woman (Jacqueline White) and her playful young son. He also comes in contact with a rather secretive fat man (Paul Maxey), who may well be a mob assassin. Not long before the train pulls into California, Brown is approached by small-time crook (Peter Brocco), who offers the detective a great deal of money if he'll permit Neall to be silenced. Brown appears to be tempted, but this is only a smokescreen to throw the crooks off the trail. The Narrow Margin was remade (and unnecessarily padded and attenuated) in 1990.
Critic Reviews for The Narrow Margin
Audience Reviews for The Narrow Margin
½
Lots of little things to like about this Noir pic, but there's too many missing pieces to love the entire movie.
Aldo Gandia
Super Reviewer
½
Good film noir set entirely on and around a train. Charles McGraw plays a cop hired to transport the widow of a murdered gangster cross-country to testify before a grand jury. Also on the train are men who will do what ever is necessary to make sure she DOESN'T testify. McGraw is Mr. Tough-as-Nails as always, and noir queen Marie Windsor is at her bitchiest. The setting on the train gives the whole film a claustrophobic quality that adds to the suspense. There's also a cool little twist that I didn't see coming. A definite star in the film noir universe.
½
I've always considered a train as an ideal geography for suspense. A claustrophobic spot where a cat-and-mouse game seems edgier than usual, and this was no exception. An intense, enormously effective thrill ride, full of great twists and occasional touches of humour.
Pierluigi Puccini
Super Reviewer
The Narrow Margin Quotes
There are no approved quotes yet for this movie.