Casshern
(2004)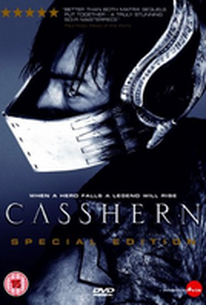 Movie Info
A genetic discovery that could prove mankind's saving grace is instead used to create the very beings who threaten their existence in director Kazuaki Kirya's visionary sci-fi epic. The time is the late 21st Century; fifty years of war between Europa and the Eastern Federation have left the planet devastated and the human race completely dispirited. In the aftermath of the Eastern Federation "victory," a new federation known as Eurasia is born. But the planet has been ravaged beyond the point of repair by nuclear, chemical, and biological weapons, and a half-century of warfare has taken a devastating toll on all mankind. At first, it appears that salvation is imminent when a highly respected geneticist named Azuma announces the discovery of a so-called "neo cell" that can rejuvenate the human body without risk of rejection. Mankind's last hope threatens to become its ultimate downfall, however, when nature and science combine to create a menace that could very well extinguish the human race forever. Now, as the human race prepares to make its last stand against the ultimate enemy, a powerful warrior will emerge to fight for mankind and provide hope for future generations. ~ Jason Buchanan, Rovi
Critic Reviews for Casshern
Audience Reviews for Casshern
[img]http://images.rottentomatoes.com/images/user/icons/icon13.gif[/img]
Directors Cat
Super Reviewer
A medical researcher inadvertently creates a race of humanoids who faced with extermination by the military promptly rebel and declare war on mankind in a flashy live action anime that's frankly all over the place. The plot, such as it is, is erratic and occasionally incomprehensible and during the extended periods when there was no dialogue at all it felt like an interminably long music video. And then when the characters started spouting long winded and pretentious nonsense about the nature of war, I wished they'd kept their mouths shut. But like most Anime based stories the confused and confusing story is salvaged by the glorious visuals which are a stunning hotch potch of manga, Jeunet-esque steam punk and even expressionist imagery presented as a combination of live action and animation that is very reminiscent of Sky Captain And The World Of Tomorrow. And I also have to say I really like the closing scene that has a genuinely sincere and heart warming message. Unfortunately it's not enough to make up for the tediously long-winded and pretentious guff that makes up the dialogue and considering the surprising lack of action, it's waaaaaay too long. Flashy but dull.
Futuristic sci-fi epic from Japan. Quite disappointed to be honest. Has some style and visual flair, but there wasn't enough action and things just got too over-dramatic and sentimental. It's so CGI drenched that the film could pass as animation, it was like watching a computer game. But it has some cool moments to enjoy, they're just too few and far between.
Casshern Quotes
There are no approved quotes yet for this movie.