The Bridge of San Luis Rey
(2005)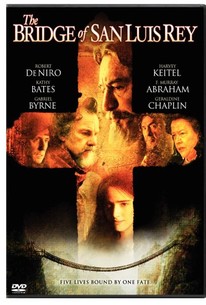 TOMATOMETER
AUDIENCE SCORE
Critic Consensus: Despite an all-star cast and some impressive visuals, The Bridge of San Luis Rey is a lifeless, slow-going adaptation of Thornton Wilder's classic novel.
The Bridge of San Luis Rey Photos
Movie Info
Thornton Wilder's award-winning novel is given a lavish screen adaptation in this historical drama from writer and director Mary McGuckian. In Peru in 1714, a rickety bridge collapsed as five people were attempting to cross, forcing them to plunge to their deaths. Brother Fray Juniper (Gabriel Byrne) is a Franciscan monk who has been given the duty of looking into the tragedy by the archbishop of Lima (Robert De Niro), and to learn what he can about the victims. It is Juniper's belief that these particular people died for some reason, and that it is his duty to determine why God chose these five people to perish, while others in the vicinity survived. After five years, Juniper delivers his findings to the archbishop as well as the viceroy of Peru (F. Murray Abraham), as Juniper tells them of the lives of the troubled Dona Maria (Kathy Bates), the nun Pepita (Adriana Dominguez), warm-hearted Uncle Pio (Harvey Keitel), street kid-turned-actress La Perichola (Pilar Lopez de Ayala), and others involved in the tragedy. The Bridge of San Luis Rey also features Geraldine Chaplin, John Lynch, and brothers Mark Polish and Michael Polish.
Critic Reviews for The Bridge of San Luis Rey
Audience Reviews for The Bridge of San Luis Rey
A little long and a little boreing but good over all.
FanGirl Browncoat
Super Reviewer
Eh, I wasn't really expecting anything as I watched this, and I'm glad I didn't. It was alright, but I was glad that De Niro and Keitel covered their accents (unlike what the synopsis says) so at least you could focus what was going on and not have a blaring reminder of who they really are. None of the characters really caused me to feel for them, and in fact it was the opposite. You actually end up disliking pretty much all of them, so when they die you don't really care. It had some pretty witty and heartfelt moments, but they weren't enough to save this boring movie. De Niro as the Archbishop was by far the most compelling performance, with an incensed religous yet arrogant ferver that was entertaining to watch. But other than that the other actors were fairly drab. Not the worst movie out there, but definitely not one of the best. It's sad to say but almost anything would be better to watch than this.
The Bridge of San Luis Rey Quotes
There are no approved quotes yet for this movie.