3:10 to Yuma
(1957)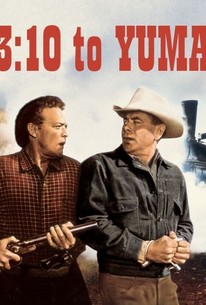 Movie Info
Desperate for money, frontier rancher Van Heflin holds outlaw Glenn Ford at gunpoint, intending to collect the $200 reward. While both men await the train to Yuma that will escort Ford to prison, the cagey outlaw offers Heflin $10,000 if he'll set Ford free. The rest of the film is a sweat-inducing cat-and-mouse game between captive and captor, interrupted with bursts of violence from both Ford's gang (commandeered by Richard Jaeckel) and the vacillating townsfolk.
News & Interviews for 3:10 to Yuma
Critic Reviews for 3:10 to Yuma
Audience Reviews for 3:10 to Yuma
Interesting in that its so little thought of, this story has unseen depths for being "merely a Western", for instance, Glenn Ford's "bad guy" seems less than evil, simply a smarter-than-the-average-guy guy who's decided that the game is rigged and that he's not playing it. And Van Heflin's "good guy" seems mainly motivated by the fact that his wife has called him a coward. There's horse riding, gun fights, and most of the genre's calling cards, but it's these extras that give this story its unexpected legs.
Kevin M. Williams
Super Reviewer
½
Much more human than the remake, I thought, and to the good, it's 20 minutes shorter. I say it's a good thing because this is a movie based on an Elmore Leonard story. James Mangold, in his remake, would do well to take the author's advice and "leave out the parts readers [viewers] tend to skip." I found Van Heflin more intense and more desperate as Evans than Russell Crowe was, and in the role of Ben Wade, Glenn Ford had a bad guy charm that Christian Bale never quite pulled off... as much as I like Bale, he's not really a charmer: as Batman, his Bruce Wayne is off, and in American Psycho, a film I love, you realize rather quickly that Patrick Bateman can't even hope to hide his sociopathic leanings. But back to the film at hand: other than the fact that 2007 was its 50th anniversary, I really don't understand why this one was remade. It's tight and well-acted, and though not a perfect film, it tells a simple story well and is enjoyable because of it.
Daniel Perry
Super Reviewer
½
Near perfect psychological western. Great confrontational scenes between Van Heflin and Glenn Ford, and pure suspense from start to finish.
Pierluigi Puccini
Super Reviewer
3:10 to Yuma Quotes
There are no approved quotes yet for this movie.