Rat
(2000)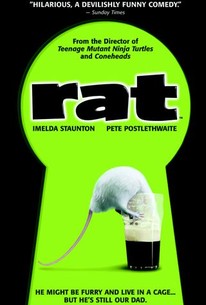 AUDIENCE SCORE
Critic Consensus: No consensus yet.
Movie Info
In this Irish fable, a man named Hubert Flynn (Pete Postlethwaite) lives in Dublin and takes pride in his indulgence in beer, gambling, and ignoring his patient wife Conchita (Imelda Staunton). One night, after having a few at the local pub, he slowly begins to evolve into a rat, which has an oddly unenchanting effect on his family. His loving daughter Marietta (Kerry Condon) is all for his new transformation, wanting to shower it with love and care, but she is also in the midst of an impending wedding and wonders if his diminutive appearance might not be acceptable. His son Pius (Andrew Lovern) is headed for the religious order and would rather see him dead. Phelim Spratt (David Wilmot), a greedy, ambitious type, moves into Hubert's bedroom and begins to write an novel of the transformation which he hopes will become a major motion picture. Conchita regards it as yet another of her husband's tricks designed to humiliate her, while Uncle Matt (Frank Kelly) has various theories on why the whole occurrence has taken place. Rat was created with the help of the late Jim Henson's animation company and directed by music video pioneer Steve Barron.
Critic Reviews for Rat
All Critics (4) | Fresh (1) | Rotten (3) | DVD (2)
"Rat" is an absurdist yarn that eventually outstays its welcome despite magnificent work by Imelda Staunton (vile Professor Umbridge in the Harry Potter films).
Aims a little too high to be kid-friendly and far too low to be of interest to many grown-ups.
August 4, 2001 | Rating: 2/5
While "Rat" offers some boisterous fun, in the end it doesn't add up to much more than paean to family values.
Audience Reviews for Rat
½
I doubt I'd have much to say about this film other than it was fairly innocent and inoffensive. It's certainly not perfect and the humor is certainly inconsistent. Inconsistent in the sense that it tries to be like The Muppets, where kid-friendly humor gives way to darker, more adult-oriented humor, ironically the Jim Henson Company did some creature work in this film, but it doesn't really work as well as it does in The Muppets. But there are some funny moments, it's just that the two types of humor don't really mesh well together in the final product. The story is predictable, most of the family is overcome by greed when they see how much money they can make off of Hubert's story and they make decisions they normally wouldn't have made otherwise if it wasn't for Phelim egging them on so he could get a better story, while selling them bullshit that the book itself would be a positive portrayal of the family. I found that the story itself was a little too perfectly resolved. And it sure takes a lot of bollocks for the guiltiest of those in the family to be upset at Phelim for writing down the truth in the book. Yes, he certainly had a hand in manipulating the events, but any one of them could've protested and refused to do what was suggested by Phelim. In many ways, they were just as bad, even in being manipulated, as Phelim himself. So it's really hard to buy all the outrage from the family, except Marietta, who was the only one who cared for Hubert, when all that was written about them was 100% true. If he embellished certain aspects, or just flat out lied, that'd be one thing, but he told the truth. So that was poorly written, at least in my opinion. Another thing that I found odd was how everybody in the town seemed to take it for a fact that Hubert had, in fact, turned into a rat. Maybe they were playing along with the family to get a laugh at their expense, but it really wasn't played up that way. That was a little goofy, but I was fine with that, it was actually one of the better parts of the film. The absurdity behind the idea certainly helped. Not a bad film at all, it's an average with a nice message, but it's definitely a flawed film. A good cast keeps it from being much worse.
Jesse Ortega
Super Reviewer
½
Ran a bit long. Was interesting up to a point which I no longer cared.
Marion Ravenwood
Super Reviewer
Rat Quotes
There are no approved quotes yet for this movie.