$5 a Day (Five Dollars a Day)
(2008)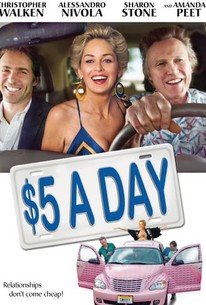 AUDIENCE SCORE
Critic Consensus: No consensus yet.
$5 a Day (Five Dollars a Day) Photos
Movie Info
A terminally-ill con man and his estranged son endeavor to live on $5 a day during a cross country drive in this road trip comedy from director Nigel Cole (Saving Grace, Calendar Girls). Nat (Christopher Walken) may be a great con man, but as a father to Flynn (Alessandro Nivola) he always came up short. Informed by his doctor that he's suffering from a terminal illness, Nat learns of an experimental treatment that could offer him a second chance at life. But that's all the way on the other side of the country, and in order to make the drive he'll need a wheelman. Enter Flynn: the son Nat never really knew. Despite the bitterness Flynn feels toward his ailing father, he eventually agrees to take the trip. Unfortunately money is tight these days, and if Nat and Flynn hope to reach their destination without coming up short, they'll have to meet the sizable challenge of living on just $5 a day.
Critic Reviews for $5 a Day (Five Dollars a Day)
Audience Reviews for $5 a Day (Five Dollars a Day)
Good film that was somehow missing a deeper emotional connections between the main characters. This movie isn't unlike, plot-wise, Big Fish in that it deals with a relationship of an estranged father and son and how the son finds it hard to trust a man who, somehow, can never be truthful or honest about anything. It deals with how that relationship is fixed as they bond throughout their trip. Yet somehow, whereas Big Fish is very emotionally powerful story about a man trying to figure out his father and who he really is, this film lacks that really important aspect that made Big Fish so great. I felt no connection to the characters and their plight, despite enjoying the film. I think Christopher Walken and Alessandro Nivola are, individually, good in their roles but somehow they never truly connect. It didn't feel like a real father-son relationship. Perhaps the script fails them in that regard because, again, Christopher and Alessandro are both good and the film, while not laugh out loud hilarious, provides them with some decent comedic moments. And that's about it really, it's a solid, if mildly forgettable film, that was missing a stronger emotional core.
Jesse Ortega
Super Reviewer
½
A surprisingly effective, unique, funny, and mostly well written indie dramedy. It features Christopher Walken at his best, he manages to be both eccentric, funny, and tragic all at once. It's formulaic in some of its plot devices, to be sure, but has enough charm to carry it through some of the weaker moments (Sharon Stone). Offbeat and enjoyable throughout. 3.5/5 Stars
Jeffrey Meyers
Super Reviewer
Fresh, funny, warm, well-written script, great actors...what more could you want? This movie is wonderful. The whole concept behind this movie was a treat. Watching Christopher Walken "pay" for this trip across the country, without spending much (if any) money was really fun to watch. Very enjoyable Indie film.
Cynthia S.
Super Reviewer
$5 a Day (Five Dollars a Day) Quotes
There are no approved quotes yet for this movie.